Tokyo—December 7, 2016—Hakuhodo Inc. (Minato-ku, Tokyo; Hirokazu Toda, President & CEO), Japan's second largest advertising company, is pleased to announce that TBWA\HAKUHODO, a member of the Hakuhodo Group, has won Gold in the Japan Creative Agency of the Year and Japan Digital Agency of the Year categories in the 2016 Agency of the Year awards presented by Campaign Asia-Pacific, Asia's leading advertising magazine.
The Agency of the Year awards recognize excellence in the advertising and communications industries in five separate regions— Southeast Asia, Japan/Korea, Greater China, South Asia, and Australia/New Zealand.
TBWA\HAKUHODO also netted an impressive haul in the People categories for Japan/Korea: Account Person of the Year, Creative of the Year, Planner of the Year, and Young Achiever of the Year.
Meanwhile Hakuhodo Group company Ashton Consulting landed Silver in the Japan/Korea PR Agency of the Year category.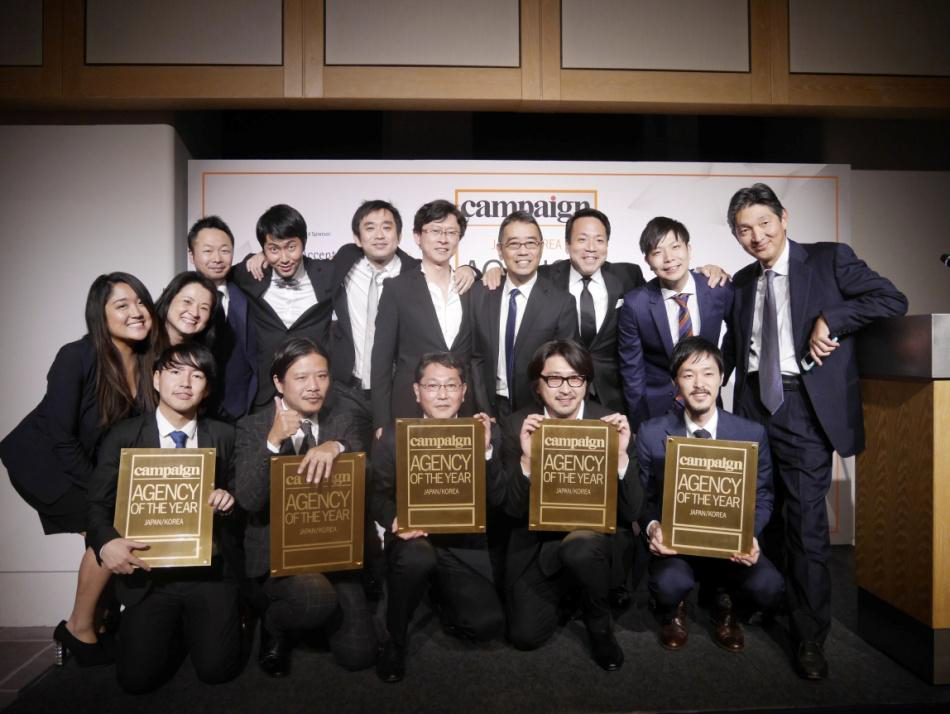 Hakuhodo Group awards
Gold
Japan Creative Agency of the Year:
TBWA\ HAKUHODO
Japan Digital Agency of the Year:
TBWA\ HAKUHODO, Digital Arts Network
Silver
Japan/Korea PR Agency of the Year:
Ashton Consulting
People Categories
Japan/Korea Account Person of the Year:
Winner: Toshihiro Yoshii, TBWA\ HAKUHODO
Japan/Korea Creative of the Year:
Winner: Satoshi Chikayama, TBWA\ HAKUHODO
Japan/Korea Planner of the Year:
Winner: Taiki Iino, TBWA\ HAKUHODO
Japan/Korea Young Achiever of the Year:
Winner: Kazuaki Kuribayashi, TBWA\ HAKUHODO, Digital Arts Network
Japan/Korea New Business Development Team of the Year:
Runner-up: New Business Development Team: Taro Ito, Issei Ishikura, Hiroyuki Tanaka and
Satoshi Suzuki, TBWA\ HAKUHODO