Ad:tech Tokyo 2016 — a gathering of the latest information on digital marketing — took place over two days on September 20 and 21. The speakers for this session, moderated by Hakuhodo Inc.'s George Moro, were Hajime Ogawa from the Mainichi Newspapers Co., Ltd., Nobuhiro Nagasaki from Kodansha Inc., Takanobu Baba from Asahi Breweries Ltd., and Wataru Toba from U-CAN, Inc. The speakers discussed, among other topics, recent examples at their companies of marketing using owned media, their methodologies, and the keys to solving problems.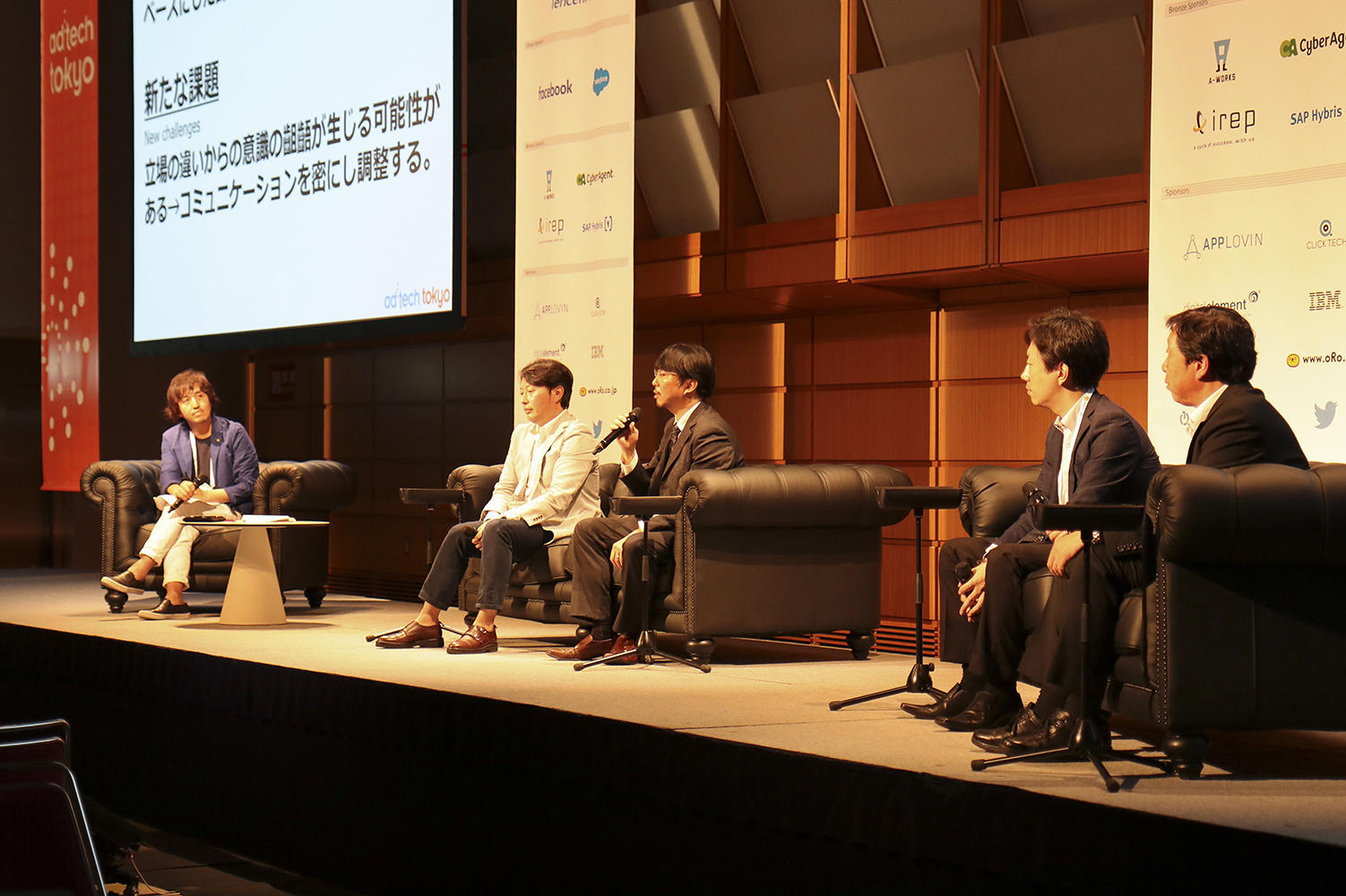 Moro: I'm George Moro, and I will be the moderator for this session. This session will deal with owned media and present the latest marketing examples from businesses and media firms, along with their methodologies and the keys to solving problems. Let's get started with examples from each of our guests.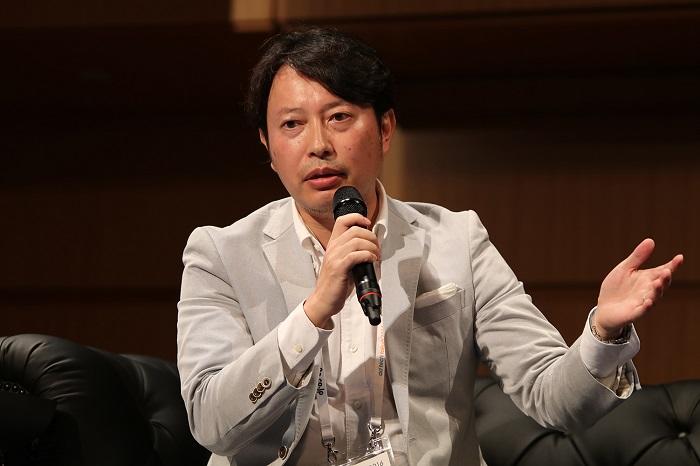 Nobuhiro Nagasaki, Kodansha Inc.
Nagasaki: My example is a campaign between Kodansha and an automaker, in which we started up a media channel as a third position that was not media owned by the advertiser or the media firm. This was a so-called co-creation content that paired a car offering a luxurious lifestyle with Chairman Shima Kosaku, a serial comic in our Morning publication. The first point about this example is how we created the social context of "the choice of a gentleman" — i.e., the brand — in order to appeal to our middle and older age target. The second point is putting the name of a virtual organization at the forefront, not the product name. The third point is the co-development of native ads with the magazine editors and of brand ads with the creators. And the fourth point is having a character as the spokesperson. This led to the advertiser, the media firm, and sei-katsu-sha each enjoying, almost like accomplices, the story that revolved around this character.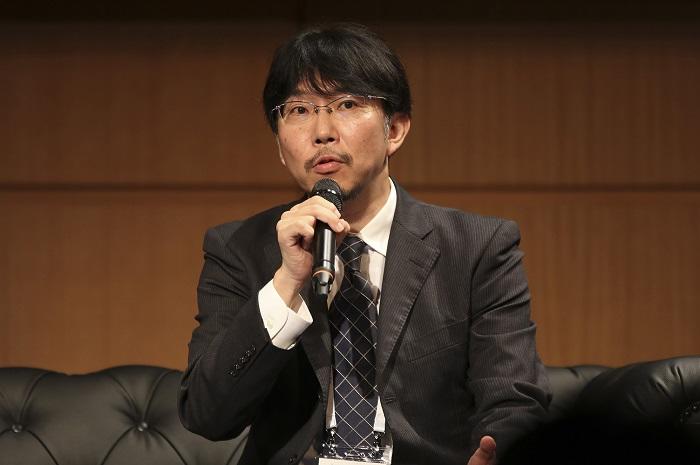 Wataru Toba, U-CAN, Inc.
Toba: The example from U-CAN that I want to share is Manatopi, curated media about learning. What we did was divide up articles experimentally into several perception categories. The first perception category was awareness, attracting customers, and fostering a desire to study. We created starting points for attracting customers and fostering a desire to study with articles about the plans of celebrities to try and get qualifications and articles about money knowledge. The second perception category was articles that triggered interest in qualifications. We partnered with AllAbout to post articles with expert knowledge, such as "The exact qualifications you need for changing jobs or re-employment by job category" and "Professionals who work for entertainers talk about what you need to become a nail artist." The third and final perception category was triggering intention to take courses (our products). We posted articles that touched even closer to the correspondence education at our company, such as articles on qualifications people are aiming to get this year and stories from U-CAN graduates.
Moro: So you divided up perceptions according to the distance, or rather the involvement, between U-CAN and sei-katsu-sha, associated content with the different perception categories, and then take them to the next action step. It all looks very neat, but what points did you arrive at as you did this? How did you string the content together in a meaningful way or guide potential customers to the next emotional stage? And what were the positives in working with AllAbout?
Toba: There are all kinds of curated media in the world, but we made sure our content never deviated from the concept of learning. That might be what differentiates us from the others. As for AllAbout, beyond evoking interest, they could send highly motivated users with the guides that they have, and it was very effective because of the credibility and persuasiveness of the articles.
Moro: I see your point. Let's move on to Mr. Baba from Asahi Breweries.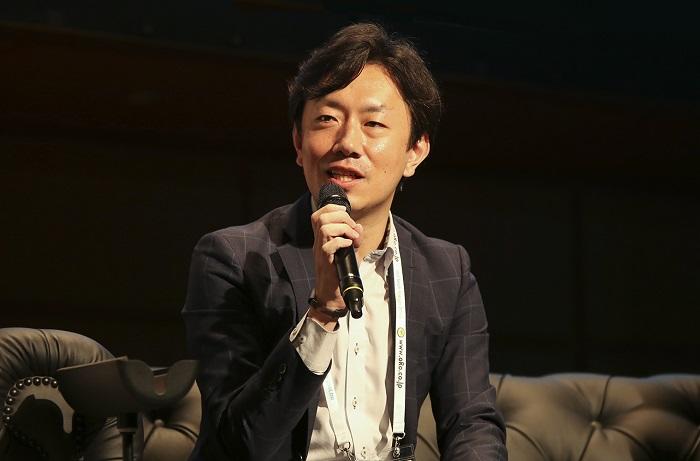 Takanobu Baba, Asahi Breweries Ltd
Baba: Our company has been operating Campanella, our owned media, with Nikkei BP since 2011. Campanella has a number of features, but first we try to keep any sense of advertising or promotion to almost zero and do not put our company or products in the forefront. We do this to get the readers to accept the information without any filters. At the same time, we place drivers to our site in order to have some touch point with the readers who come in contact with Campanella.
If we tried to communicate our group's information to the readers, it would tend to suit our own convenience and not the readers'. So we have Nikkei BP convert the information into content that grabs the readers' attention. For example, when presenting one of our distilleries, Nikkei BP used the entry point of travel, or when presenting a restaurant belonging to a Group company, they used the entry point of how to enjoy wine.
Moro: Next, let's look at the question of why owned media is a new business chance for media firms. I turn this question to our speakers from the Mainichi Newspapers and Kodansha.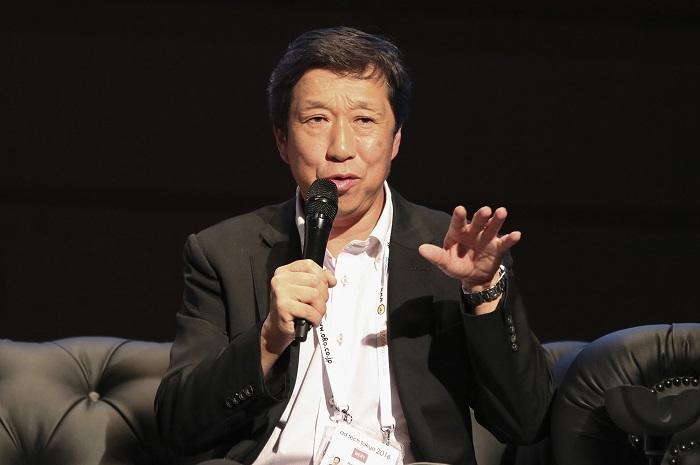 Hajime Ogawa, Mainichi Newspapers Co., Ltd.
Ogawa: For example, we have teamed up with a beverage maker and are working on a web magazine that focuses on coffee as its theme. We provide around 40 articles a month, including articles rewritten from existing articles and independently written articles. As a newspaper, we bring credibility, being a brand with 145 years of history and premised on the writing of 2,000 reporters. We are also valued for our inherent strengths as a newspaper — high quality articles and fast writing. We also have rich resources like photography and video, so in preparing for the future information landscape and thinking about solutions as partners, newspapers can contribute a lot.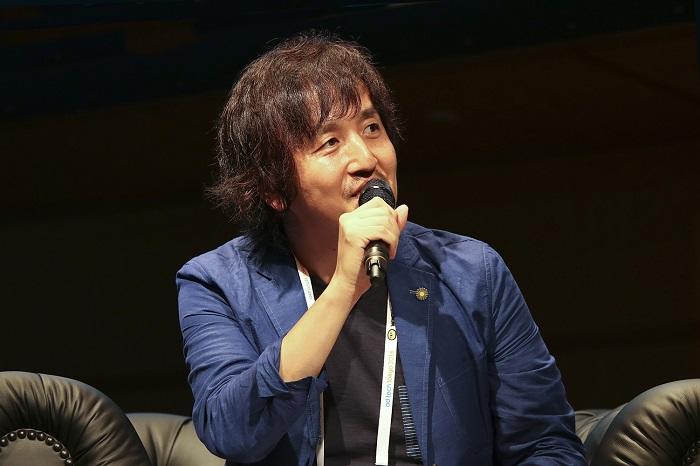 George Moro, Hakuhodo Inc.
Moro: I see. Our group too has launched a service called Prectory, which produces owned media content for corporations together with multiple media firms. This is an initiative that communicates information and perfectly closes the gap between what the company you were just talking about wants to communicate and what sei-katsu-sha want to know. And we certainly hear of how wonderful the editorial ability and content of media firms are and their references are amazing. Let's hear from Mr. Nagasaki next.
Nagasaki: Again, what I want to propose to publishers is can we categorize our assets. What we in the media can help with is creating engagement to transcend the gap between corporations and sei-katsu-sha. And what is the source of that engagement? Well, let's sort that out.
At the foundation is the media brand and content power, which includes editorial ability, casting, and rights. There is social trust in media in the form of the value of a magazine name or reputation. Readers and fans become attached to the content, so if you put it on the Internet, an audience will crowd around it. On the other side, you have volume, quality, and reach of your social action as well as user-experience events and real stores. And then there are the influencers between sei-katsu-sha and editors — exclusive magazine models and YouTubers. I think these elements should be categorized.
Moro: I suspect many people are interested in this topic too. What should be done to reach KGI and KPI targets in marketing?
Toba: U-CAN has run a considerable volume of commercials each January for several years. We bring people who saw the commercials to our site first of all. On our owned media, the KPI is requests for materials and the final KGI is taking lessons. Manatopi that I presented earlier, our matching diagnosis, and other content play a role in leading customers closer to the KGI. Since correspondence courses are a product you can't know until you try, owned media has a large role in enticing customers to believe that a correspondence course is something they need.
Baba: To take one example Asahi Breweries was involved in, we took the same interview with a winery owner in Chile and aimed to trigger reader interest with the entry point of "secrets of the Chilean wine craze" on Campanella, while fashioning it as the owner taking about his winery brand on our website. After turning this into a progression where customers would buy the wine on our EC site or in real stores, sales expanded for the brand on our EC site.
Nagasaki: From the media standpoint, in articles created by professionals, as I mentioned before, or in articles by buzzed-about amateurs, can the differences in quality be made visible and possibly used as indicators? This is where I'm picky. The Internet can be used for visualization, and there are actual examples of using the numbers in individual cases. But no cross-platform, cross-media indicators exist yet for the effectiveness of content-centered advertising. So what we should be seeking moving forward is how to quantify content power and apply the indicators throughout the industry. That's my recommendation.
Moro: And now a final word from each of our speakers.
Nagasaki: The interval between calmness and passion. There are places for doing things based squarely on the data, but you also have to do interesting things to overcome the gap with sei-katsu-sha. The passion to do this is important.
Toba: Data marketing, ad technology, DMP … I feel putting too much emphasis on efficiency narrows possibilities, and personally I'm not a fan of this. As a manufacturer, how do I deal with data marketing? Today we still share analysis accounts with a partner company and share issues like listings. I think we should deliver content while relying on and studying these kinds of partnerships.
Ogawa: The time has come for legacy media to pay back, and that return is owned media. So we are determined to work in cooperation with everyone from here on.
Baba: My ambition is to centralize the flow of striving to trigger interest and have sei-katsu-sha spend on and buy the brand, and to link online and real to visualize how sei-katsu-sha have acted.
Moro: Thank you very much. Communications are linked from mass media to stores with owned media as the originating point. Owned media is also positioned as the foundation of fast PDCA-cycle businesses for marketing and sales. I trust corporations and media firms will come together to take on many challenges in owned media. Thank you again for attending today.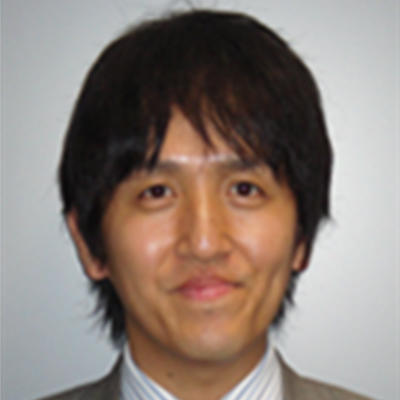 George Moro
General Manager, Digital Activation Department, Activation Division, Hakuhodo Inc.
Mr. Moro leads a team that faces along two axes — 360 (integrated planning) x 365 (data-originated continuous marketing) — and has partnered with multiple corporations in Japan and abroad. He is the leader of dozens of Hakuhodo Group companies at the Hakuhodo DY Next-Generation Owned Media / Marketing Center, where he cooperates with media firms, develops various solutions, and pursues data businesses.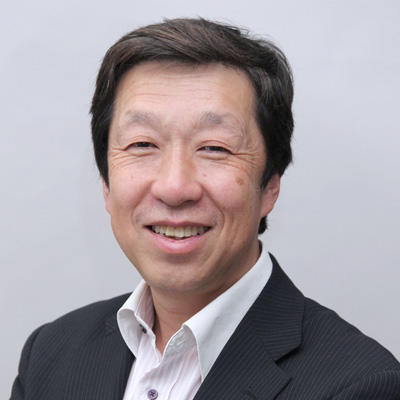 Hajime Ogawa
Director, Media Strategy & Digital, Mainichi Newspapers Co., Ltd.
After joining the Mainichi in 1981, Mr. Ogawa worked in the City News Division as well as served as the head of the Yokohama bureau, manager of the President's Office, head of the City News Division, deputy director of the Sales Division, head of the Education & Newspaper Promotion Headquarters, deputy director of the Content Business Division, and Editor-in-Chief at Tokyo Headquarters, before taking his current position in 2015. He has co-authored Terrorism and Journalism (Gendai Shokan), Human Rights on the Reported Side (Akashi Shoten), Your Personal Information is at Risk (Shogakukan), and other works.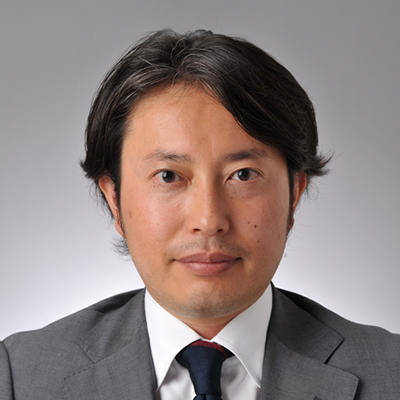 Nobuhiro Nagasaki
Deputy Executive Director of the First Business Division and Deputy Executive Director of the Rights and Media Business Division, Kodansha Inc.
Mr. Nagasaki is involved in developing advertising products for magazines, comics, and digital media and in event promotion. Since 2010, he has worked on establishing M-Value, a study measuring advertising effectiveness in magazines, run by the Japan Magazine Publishers Association (JMPA), the Japan Magazine Advertising Association (JMAA), and partner companies. And as the chairman of the Native Advertising Committee of the Japan Interactive Advertising Association (JIAA) since 2014, he has directed the establishment of guidelines and advertising effectiveness metrics.
Takanobu Baba
Deputy Manager, Digital Strategy Office, Asahi Breweries Ltd.
After joining Asahi Breweries in 1999, Mr. Baba has been in charge of commercial sales in Kyoto, sales promotion in Kagawa Prefecture, volume sales in Tokyo, and an MD. In 2013, he transferred to the Digital Communications Strategy Office (now the Digital Strategy Office), where he is currently in charge of running Campanella, an e-commerce corporate liaison office, and many other digital-related operations.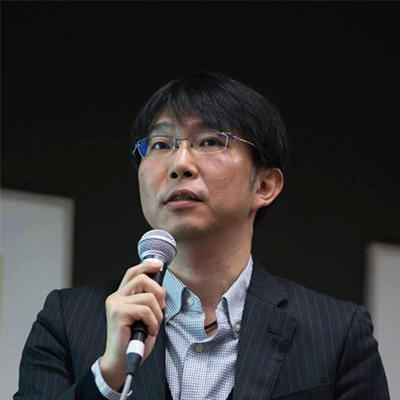 Wataru Toba
Associate Manager, Web Marketing Department, U-CAN, Inc.
Mr. Toba joined U-CAN in 2000 where he was first responsible for guidance and course development at the Correspondence Education Division. He moved to the company's web operations in 2006, where he was in charge of web advertising and managing the U-CAN site. He currently manages all web marketing for the Correspondence Education Division.