This is Shun Ogiso from Hakuhodo's PR Strategy Division.
I was in charge of PR at Hakuhodo's booth at South by Southwest (SXSW) 2017, an international technology startup event held in Austin, Texas, over March 10 – 16, 2017. In this report, I'll describe some of what I saw and noticed at this year's SXSW.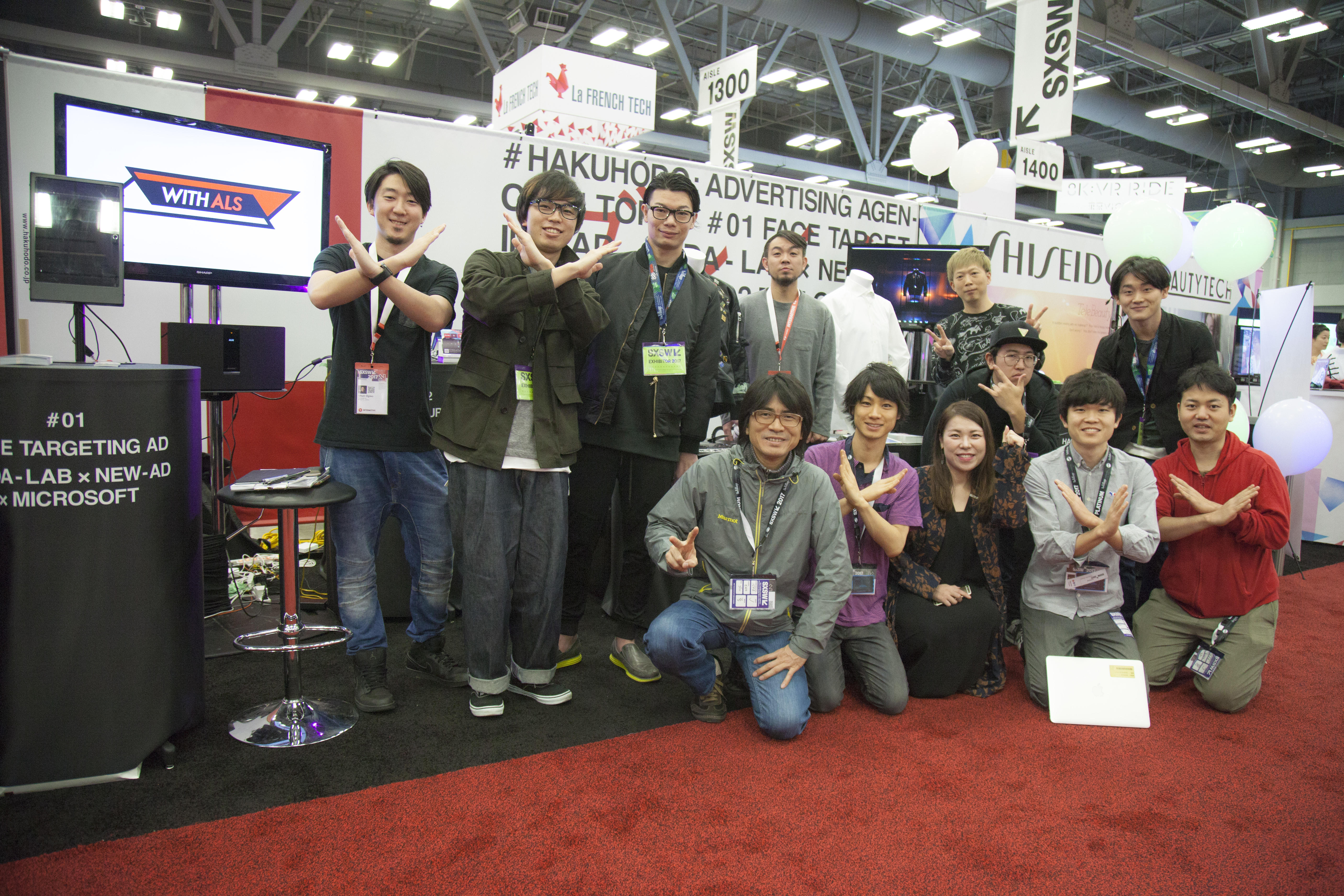 Austin has long been hailed as an international center of live music. During SXSW, entire districts of Austin transform at night into streets of music. Sixth Street, home to rows of music venues and clubs, in particular, is filled day and night with music of every conceivable genre — from rock, jazz, and metal to hip hop, country, and techno — pumping out of almost every building.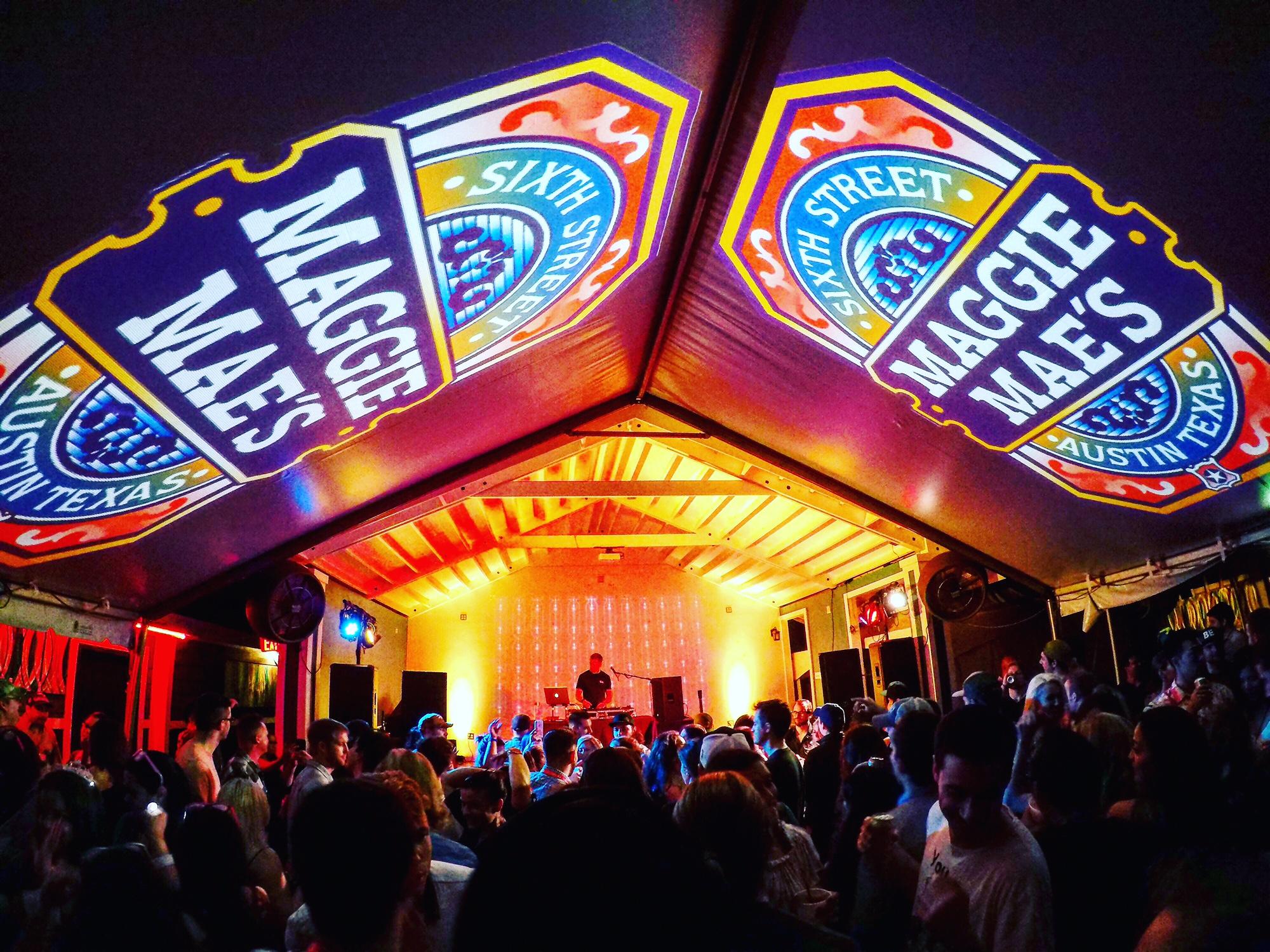 SXSW began with a call by managers of Austin's independent artists to meet and discuss how to market local artists. In response to their appeal, 700 artist managers from all over the U.S. showed up to the inaugural event. Over the years, the organizers have added film and interactive components alongside music, and this year featured a comedy festival as well. SXSW has grown into a massive festival, drawing over 200,000 people each year. Conference panels, sessions, and a trade show run during the day, while at night live music showcases take over virtually every space possible. SXSW is also widely considered to be launching pad for startups and new services.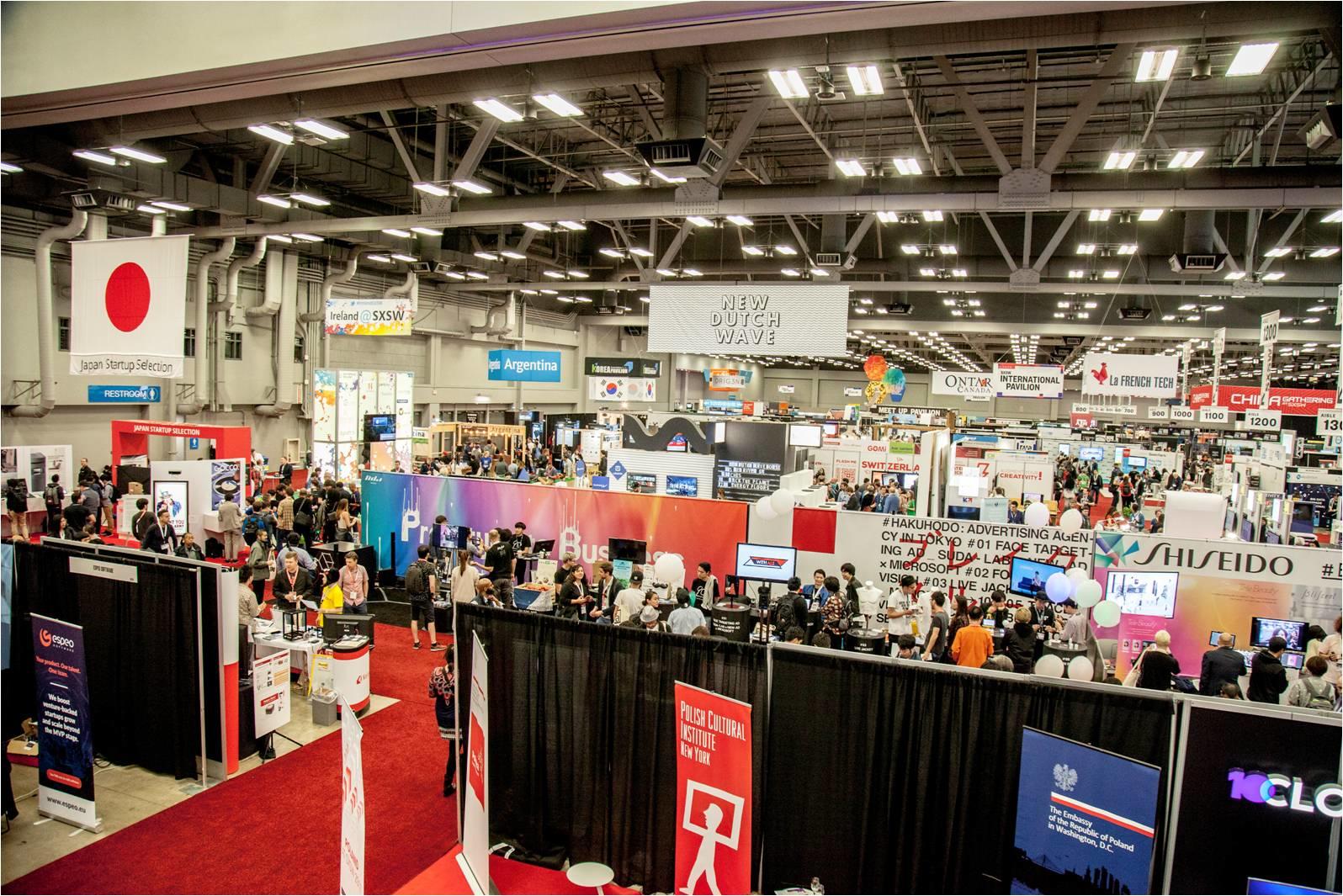 This year, Hakuhodo ran a booth at the trade show held in the Austin Convention Center, which is at the center of the city and SXSW. All types of interactive products and prototypes were on show from around the world. The trade show was packed with entrepreneurs seeking innovation partners, investors, and media representatives, and discussions about business deals and development collaborations broke out spontaneously on the convention center floor.
A large contingent of Japanese companies and R&D organizations exhibited as well, and the Japan Startup Selection booth, which was the focal point of exhibits from Japan, attracted crowds every day. In addition, over 700 Japanese individuals apparently attended SXSW this year. I was impressed by how the SXSW brand has solidly established itself as a promotion and information-dissemination destination.
In the next sections, I'll touch on the "possibilities of technology" that I caught a glimpse of at the SXSW trade show and provide some highlights from the exhibits.
I'll start with the Hakuhodo booth: Breakthrough to the Future was our overarching theme this year. Given that ad agencies today are delving into new fields, we decided to exhibit products developed using leading-edge technologies that communicate the "seeds of the future" to the world.
We exhibited and demonstrated seven unique products developed either by Hakuhodo alone or in partnership with other companies: Face Targeting Ad, a system that scans the face of a person standing in front of a mirror and then delivers an ad appropriate for the person; Jins Meme Bridge Platform, which lets the user control various electronic devices just by eye movement; Live Jacket, which provides a whole-body music experience; Eli, a tiny microphone device that analyzes natural conversations for optimal English language learning; Hackable Bulb, a programming tool for creating original light bulbs; Trace, a measurement app for pens that indicates visually how hard you work each day; and Floticon Balloon, which draws patterns in light inside a balloon using conductive ink.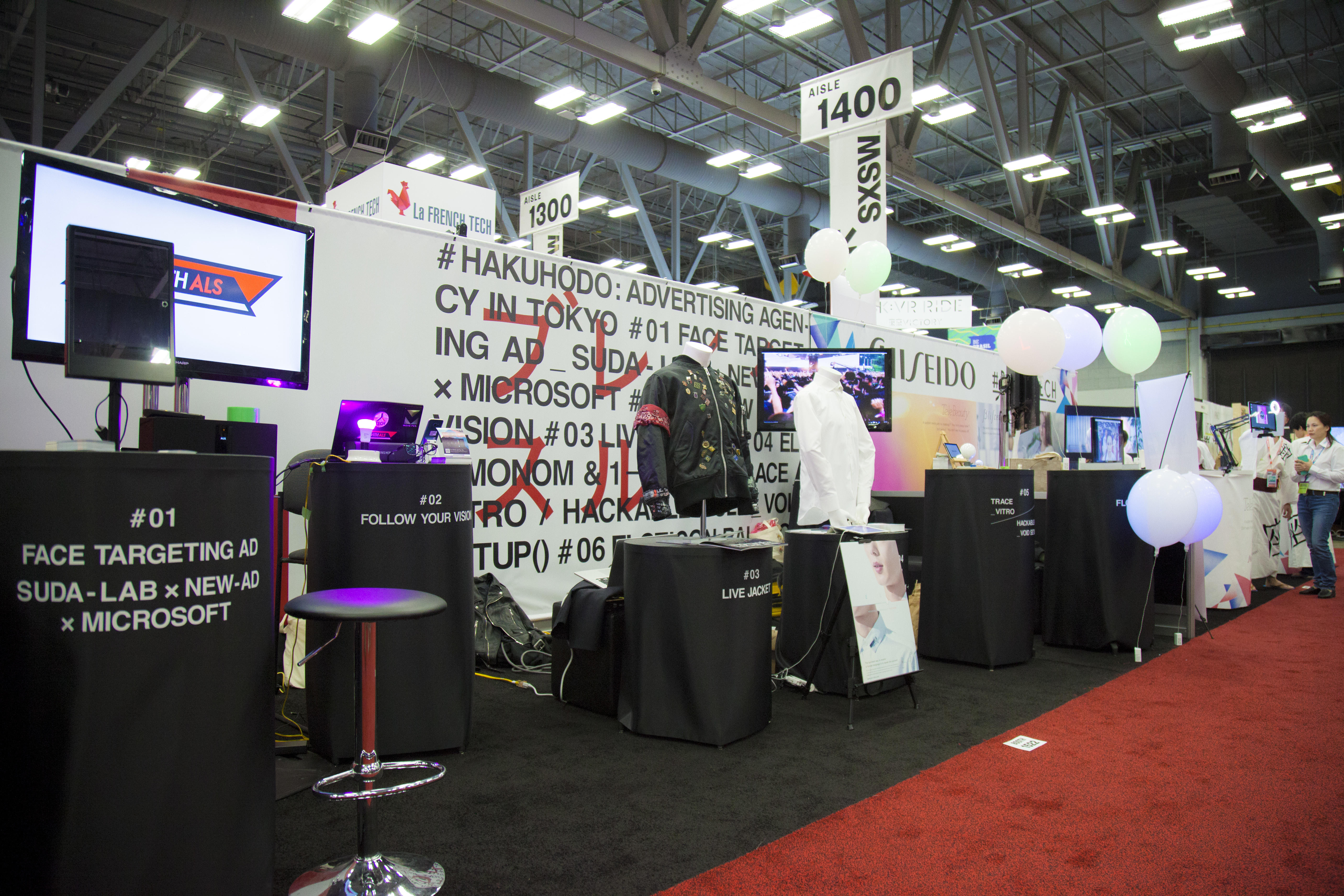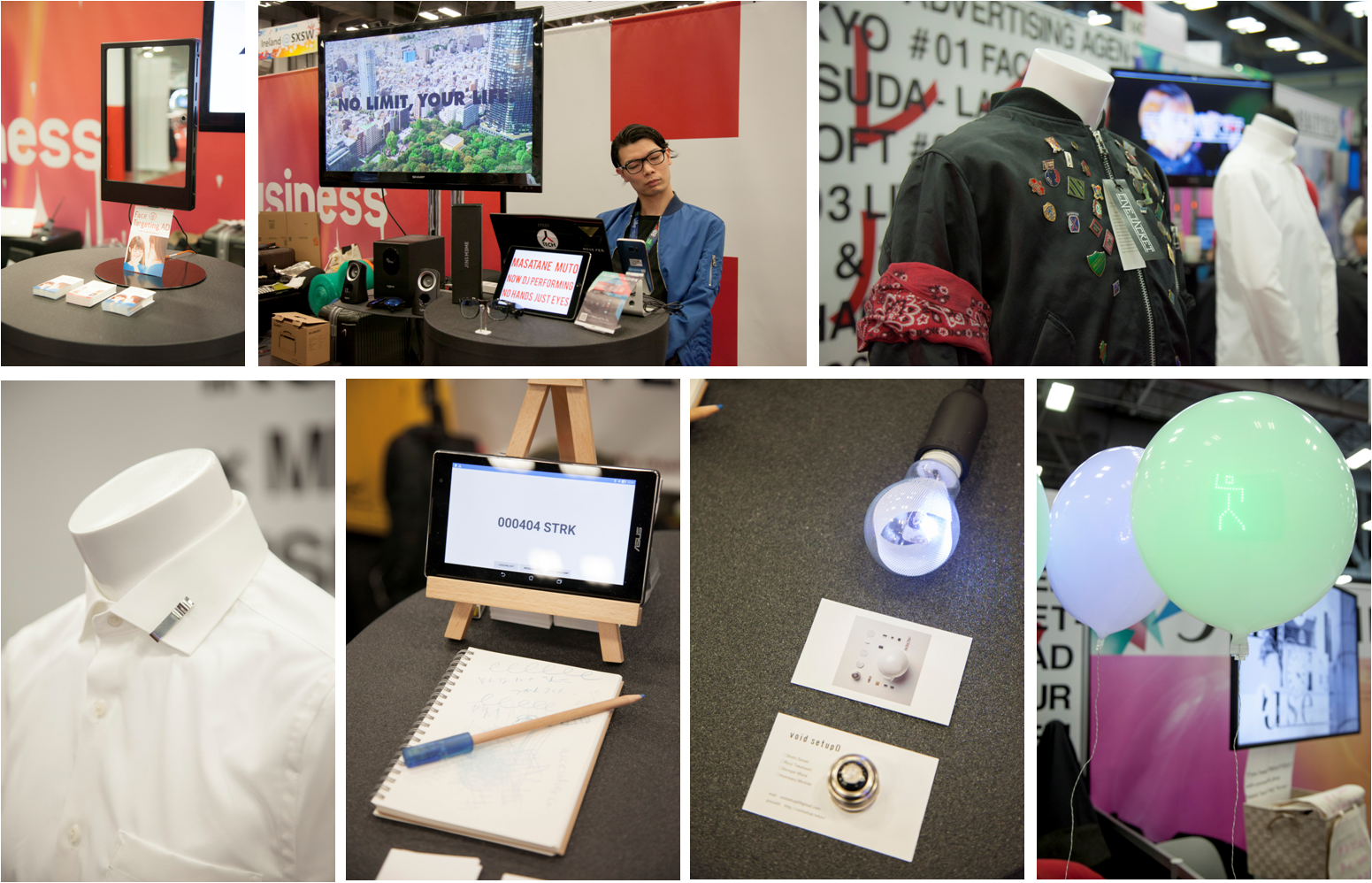 (Clockwise from top left) Face Targeting Ad, Jins Meme Bridge Platform, Live Jacket, Eli, Trace, Hackable Bulb, and Floticon Balloon
I worked at the booth every day, explaining the products to visitors in my clumsy English. (It reminded me of when I was student working part-time selling goods at events ;-)) The visitors who tried out the products had lots of comments, and some were so excited they immediately tried to strike deals: "Why is an ad agency at SXSW if you mainly do client work?" "Do you have plans to actually launch this? I'd love to sell this at our store." "Get in touch with me anytime if you need a development budget because I'll consider investing."
Musicians and artists performing at SXSW also dropped in. Visitors who watched Mr. Muto DJ using the Jins Meme Bridge Platform and who tried on the Live Jacket made offers on the spot, saying they wanted to try them in their own performances.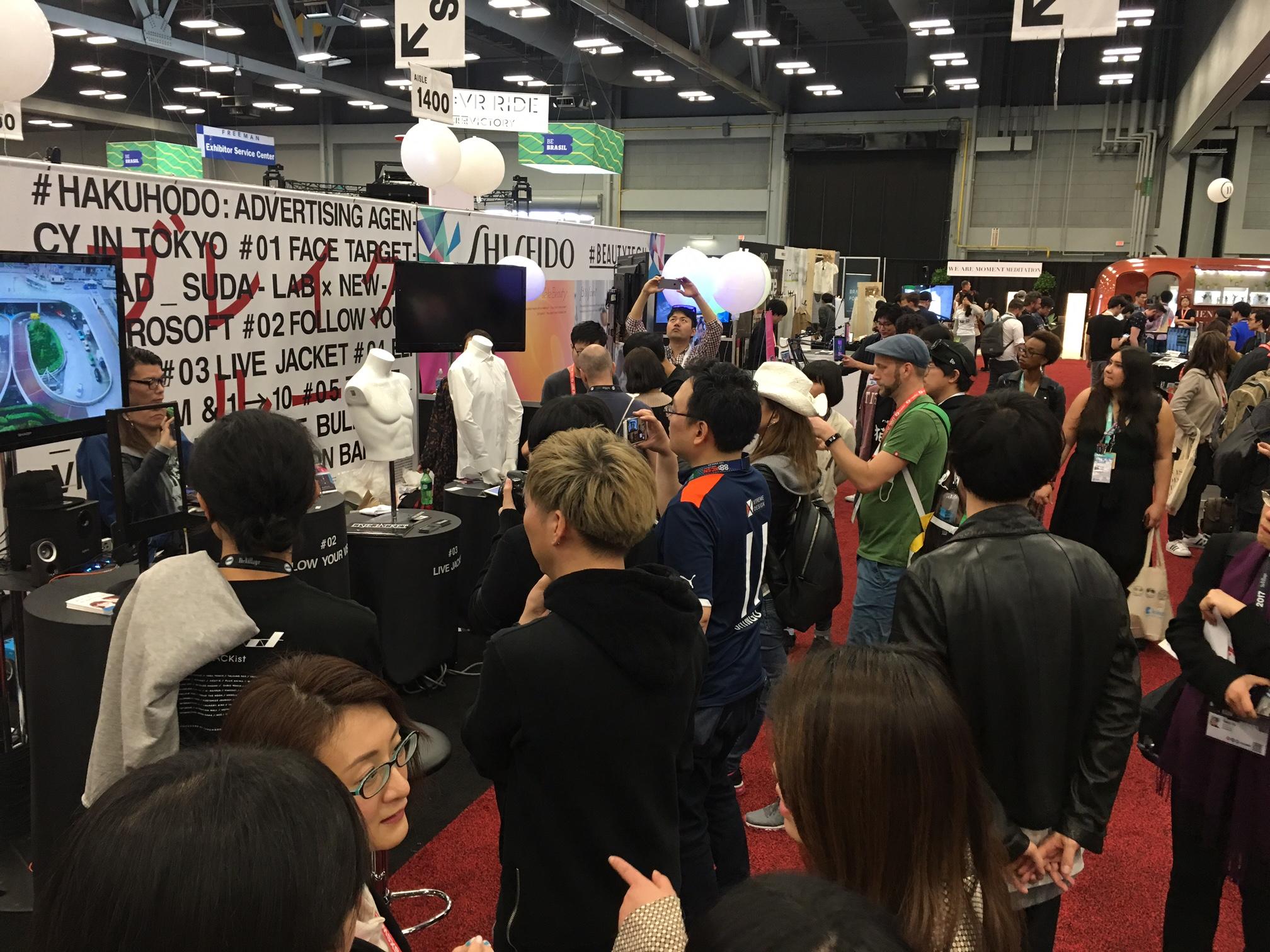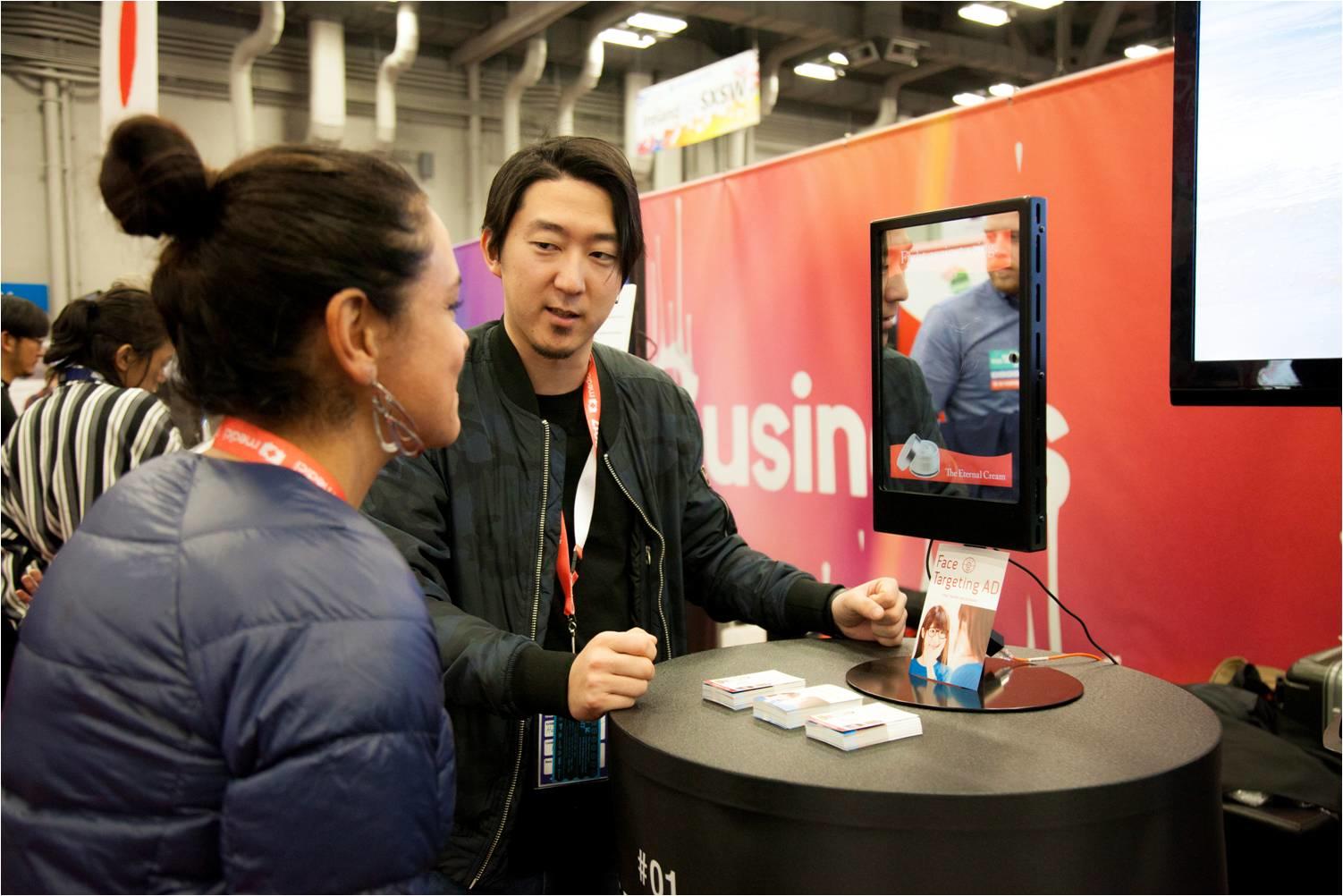 As I talked with more than 150 visitors a day, one reaction that particularly stood out for me was "that's sooo Black Mirror…" Black Mirror is a British science-fiction TV series, which started broadcasting in October 2016 in Japan. Set in the near future and posing the question "what would you do if this future came true?" the series cynically portrays events that could conceivably happen in our modern world. Some examples: a world where social media is the center of people's lives and everything is ranked by the number of likes you get, or a society where chips are implanted in your body that store all your memories so you can replay memories over and over again. Perhaps the best way to understand Black Mirror is to think of it as the British technology version of Yonimo Kimyona Monogatari [Tales of the Unusual].
While listening to visitors remarking "that's sooo Black Mirror…," it dawned on me that most people at SXSW were reacting, not to the products and services that applied cutting-edge tech to advance and evolve personal experiences, but to possibilities — that is to say, the interpretations and sense of values of a new world that these products and services might bring about in the near future.
From this perspective, I'll finish this report with a number of Black Mirror-like products that caught my eye at the trade show.
1. ORIG3N — The world's largest genetic database + profiling kit
The mission of ORIG3N, a leading company in the field of regenerative medicine, is to democratize science. The company sells packages consisting of a profiling kit with a special device for users to take a sample of their blood cells. Users send the kit with their cellular information to a German research lab that stores and analyzes genetic information. From the analysis, users can find out their abilities, physical strength, and uniqueness at the genetic and cellular level, while researchers are able to create a repository to aid research into genetic diseases and help develop safer, more effective drugs.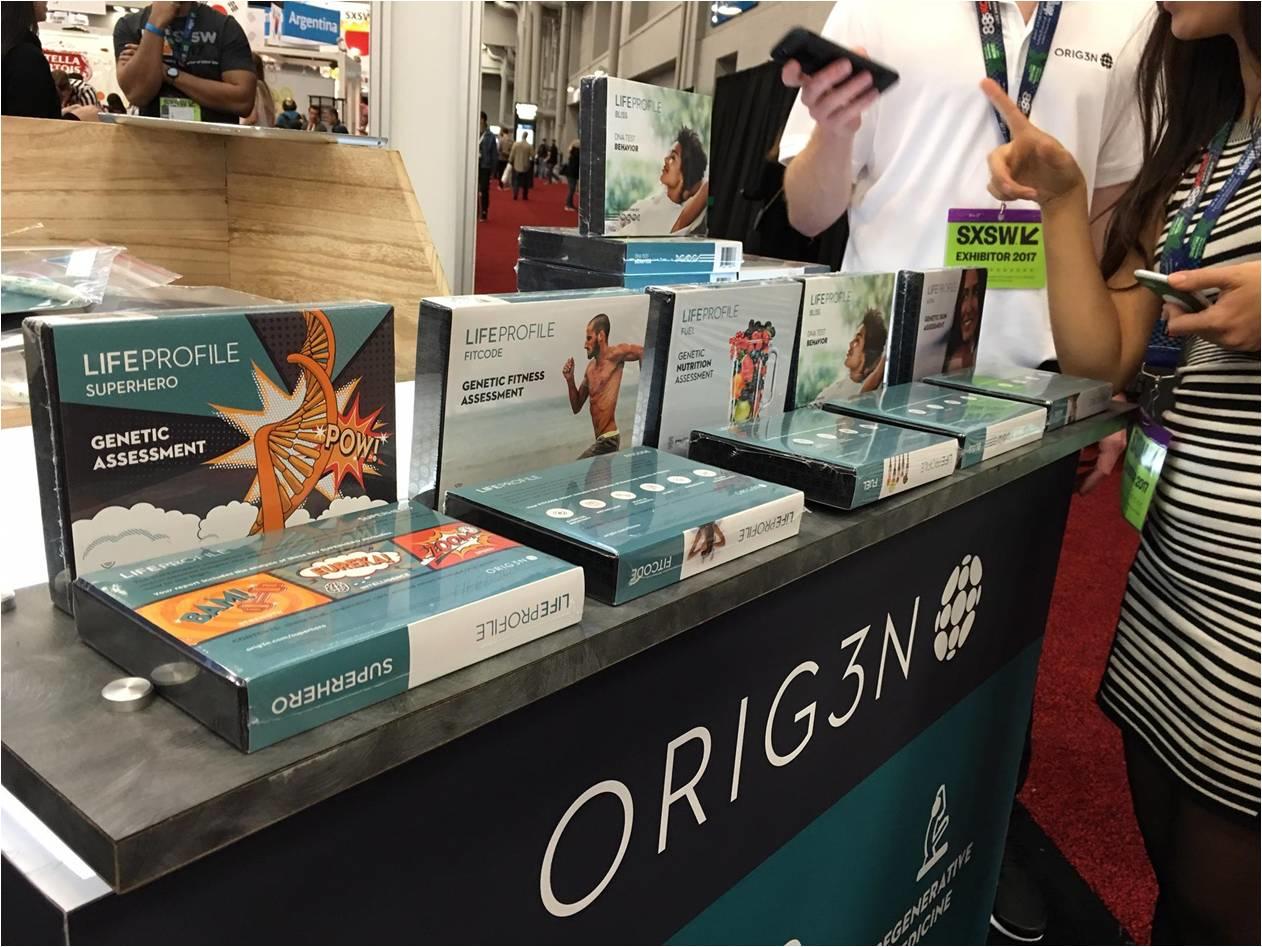 2. +move — Creating cuteness with technology
+move exhibited works from Momoka Nakayama, a Tokyo University student, whose presentation won Future Tokyo Fashion, a crowdfunded contest by Parco. "I wondered whether our daily lives would become more wondrous if everyday objects were suddenly given the capability to move on their own. The idea I wanted to convey was astonishing people through movement alone." Starting from this concept, Ms. Nakayama created hangers that flee from you just by swiping your hand in front of them and that react to nearby objects and draw back if they approach. For example, shirts hung on the hangers automatically space themselves evenly along a closet rod, as if the shirts were alive. This demonstration impressed on me that these hangers could bring a new sense of values to clothing.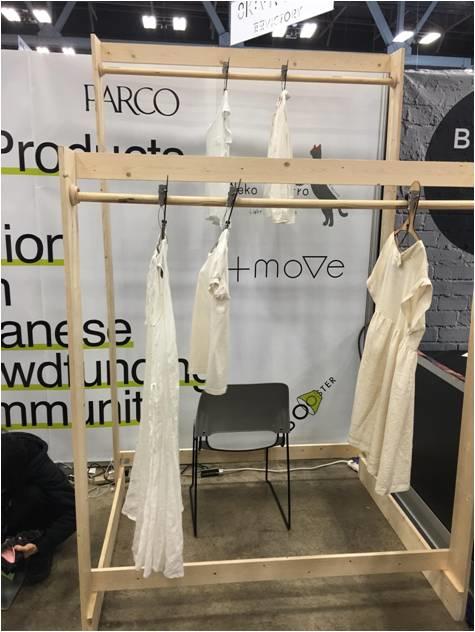 3. Vinci — AI-powered headphones that are like a smartphone for your ears
Vinci debuted their consumer-ready AI-powered smart headphones that raised 900 percent of their goal on Kickstarter. Developing Vinci was the mission of Max Wu, who was born in Beijing and studied hardware optics at MIT: "Rather than merely function as headphones, Vinci depicts the future from an experience more convenient than looking at your smartphone." The embedded artificial intelligence analyzes tendencies and quickly learns your preferences. Simply put, they are like headphones with a built-in smartphone. The key takeaway is that the headphones themselves choose the music for the user. Not only does Vinci create interactions with content from learned information, time of day, location, and biological measurements: it also goes beyond music, giving directions and even hailing an Uber. (Vinci is now on sale to the public.)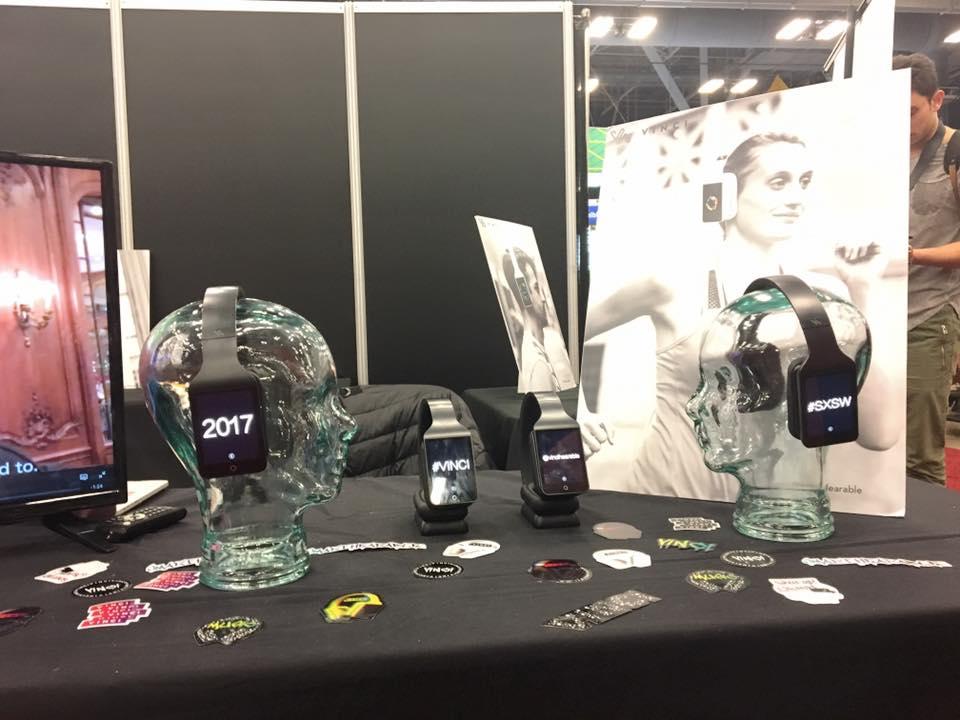 The three products I introduced all suggest vectors that could become new interpretations and values in our world, instead of just being extensions of functions driven by advances or evolution in tech. They all give a peek at the coming future, much like Black Mirror does. Furthermore, the origin of most of these technologies is the powerful vision of the developers or a clear mission to improve a social problem. I discovered that, to the extent SXSW is a platform backing the "ambitions of trailblazers," much like the West Coast does, people at SXSW were more interested in the developers' visions and dreams than in the technological mechanisms. Consequently, people tended to shun products that were overtly promotional.
In short, what's important when growing a tech startup is to communicate as clearly as possible the tech's possibilities and its category-defining nature that will be accepted as new propositions for humanity.
It's in this communications domain where ad agencies, by defining new interpretations, can craft meaning and bring value through technology. I also sense that we can extend the maximum travel of a product launch by shifting, even slightly, the takeoff angle, while still following a trajectory that is true to the developer's vision.
PR is an essential mechanism (consensus building with the public via third parties), especially for tech startups, even though the communication issues differ in different development stages. "Nurturing the business while moving toward fulfilling the mission." This is the challenge for ad agencies that I came to understand over these seven days.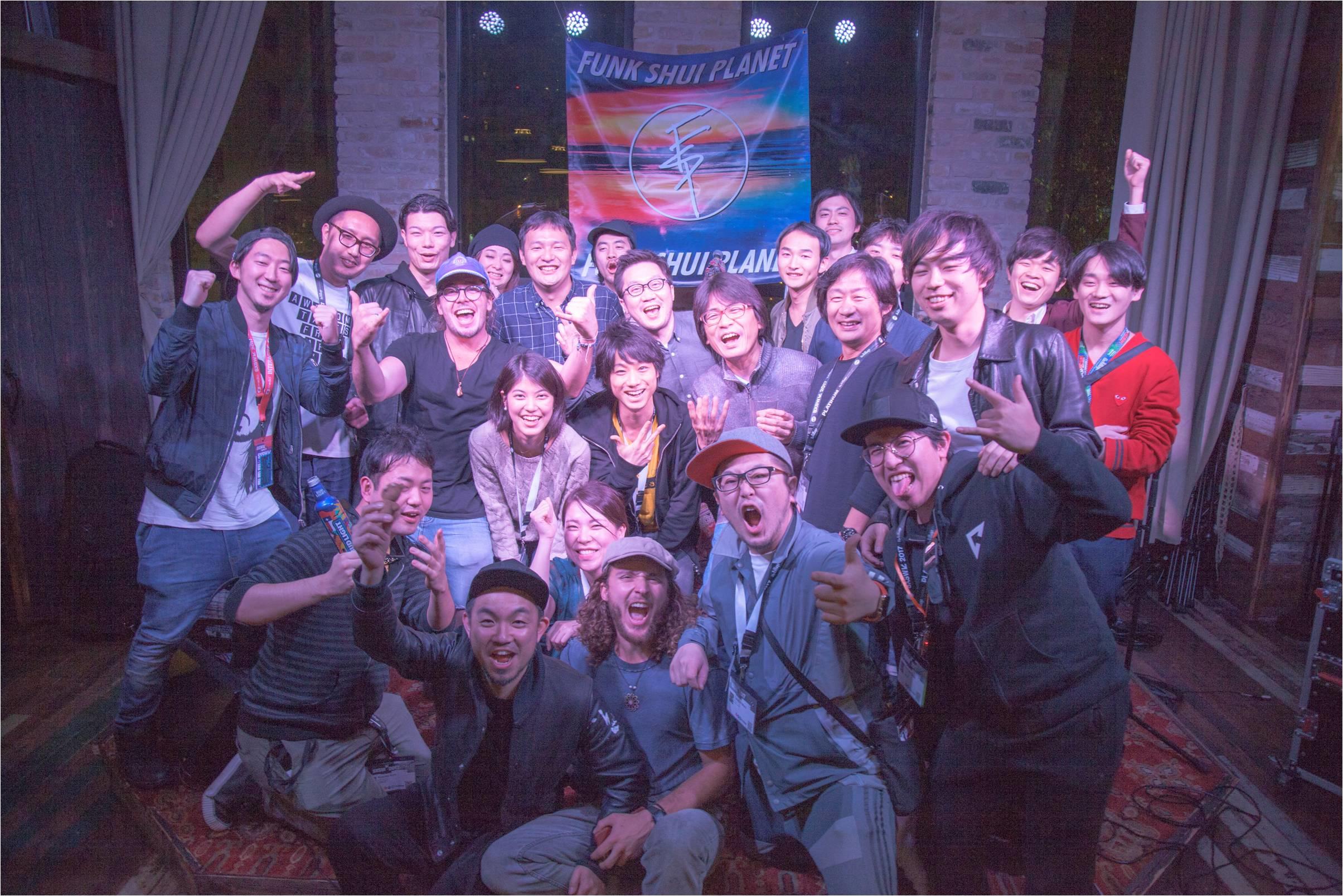 Commemorative photo of the Hakuhodo booth workers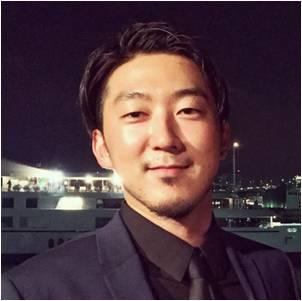 Shun Ogiso
PR Strategy Dividion, Hakuhodo
Born in Tokyo in 1990, with an ersatz childhood in New York, Mr. Ogiso researched service design based on design considerations at university. He joined Hakuhodo in 2014, where he worked in communications planning centered on PR concepts, such as event production, development of brand experience mechanisms, and strategic PR, with the goal of "creating public consensus through the power of entertainment." He is presently engaged at the Digital PR Department in redefining the value of public relations through new PR business development and strategy planning. Mr. Ogiso has received awards at the Japan PR Award Grand Prix, Cannes Lions, Spikes Asia, ADFEST, and other events.