Happy New Year.
Navigating through the extraordinary changes surrounding us, we were reminded last year of the huge potential of creativity, one of our major strengths. It is creativity that will shape the future. It is also human creativity that can open up unimagined ways when conventional solutions are no longer adequate. After evolving from an advertising agency to an advertising company, we are now stepping beyond the realm of advertising and into a new creative industry. Our role in the post-pandemic world is to produce innovative services and business models while expanding the scope of our expertise and disciplines in response to the changing behavior of society and sei-katsu-sha, working toward our vision for the future.
The Hakuhodo DY Group is getting ready to make that quantum leap. Last year, we enhanced the potential of the whole Group by removing the walls that had separated our member companies, thus facilitating horizontal collaboration, and building common strategic units and management structures. HAKUHODO DX_UNITED, a strategic unit that brings together three of our Group companies—Hakuhodo, Hakuhodo DY Media Partners and D.A.Consortium—implements digital transformation (DX) in marketing and media. The MIRAI Business Division, a unit dedicated to creating new businesses that is jointly operated by Hakuhodo and Hakuhodo DY Partners, is proposing thematic challenges to be met by forward-looking companies, such as zero-carbon and smart cities, and expanding its network with industry and the public sector to create new businesses. Temporary staffing and call centers are also emerging as growth markets for our Group. This year, we will leverage this momentum through Group-wide efforts to better contribute to the growth and transformation of our clients' businesses.
The closer ties among Group members have generated cross-organizational collaboration and dynamic interaction among our people, confirming that it is the vitality of our people that drives the growth of our business. The desire to have a greater impact on the world and to do something more interesting will lead to significant inventions in diverse fields of business, if we are inspired to use our creativity more consciously. Creativity is also essential in determining how to leverage technology and how to interpret data, and helps solve social issues and attain the SDGs. We aim to create new value throughout society, understanding that we are part of that society.
We look forward to working with you on the challenging task of shaping the future with creativity.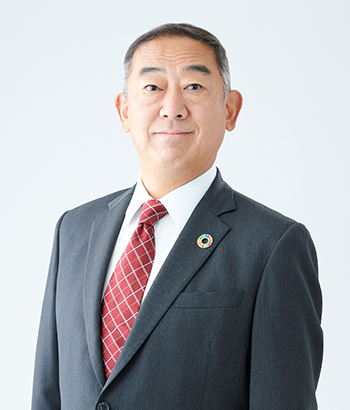 Masayuki Mizushima
Representative Director & President, Hakuhodo DY Holdings Inc.
Representative Director, President & CEO, Hakuhodo Inc.