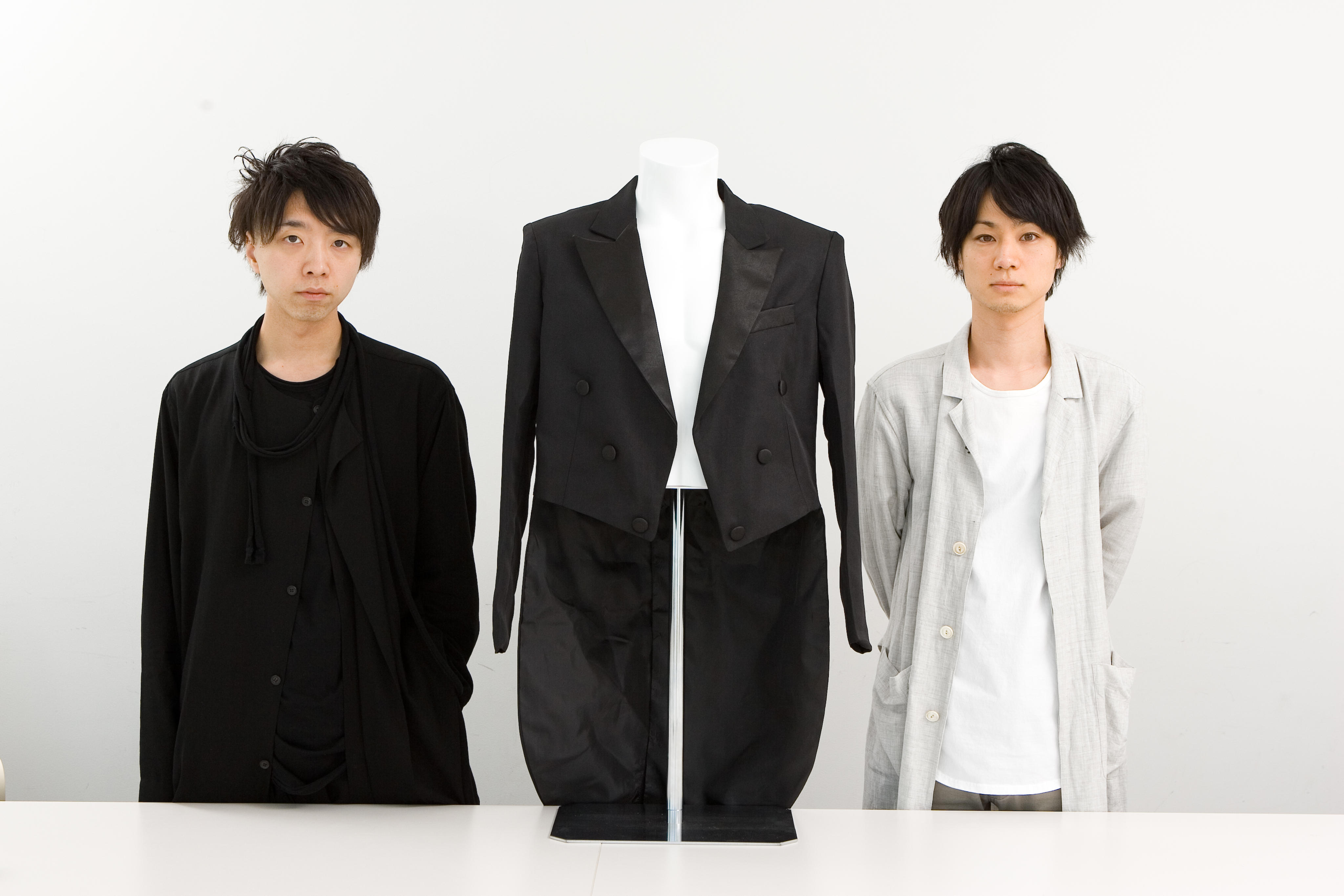 Orchestra Jacket, the orchestral version of Live Jacket, flanked by Yoichi Ochiai (left) and Hakuhodo's Masatoshi Usami, who worked on developing it.
On April 26 Hakuhodo announced that it had developed a device that lets you experience live music anywhere, the Live Jacket. *For further information (in Japanese) see http://www.hakuhodo.co.jp/archives/announcement/38600.
Project partners Yoichi Ochiai, Assistant Professor at University of Tsukuba as well as a media artist, and Masatoshi Usami of Hakuhodo's Corporate Planning Division talk about what led to the Live Jacket's development, what makes it so special, and its potential applications.
OCHIAI: I usually spend my days working as a media artist, and my focus right now is on how to bring to an end the era of Edisonian technology. What I mean is this. The mass-produced audiovisuals that Edison invented in the modern era still continue to dominate the music world. I'm really intrigued by the question of how we can suitably update them for the computer age.
So what we aimed to do in this project was to update the experience of music. The fact is that the practice of converting music to data and selling it as software has hit a dead end. Listening to music has gotten to be an extremely personal experience — you stick your earphones in your ears to listen to it — and the experience of live music has become rare. The increasing popularity of music festivals, for example, is I think a reaction to that. So I thought what we need is neither music for a huge audience nor a musical experience on earphones, but rather a midsize musical experience lying somewhere between the two. That's when the Live Jacket came into being.
USAMI: Last year I became involved in a project with a Japanese rock band called One Ok Rock. I was trying to come up with an idea tied in with the release of their new album. The new album was titled "Ambitions," so I thought maybe we could somehow combine the idea of ambitions with music. CD sales are steadily falling these days, yet musical festivals and live concerts are growing in popularity. Given that social background, it occurred to me that music is now valued not just as a thing to listen to but as an experience to enjoy. So, since One Ok Rock is incredibly popular as a live band, I started wondering what could be done to transform their music into an experience. I turned to media artist Ochiai-san to give concrete shape to the idea.
OCHIAI: You gave me the task of coming up with an unusual way to play music. Among the ideas that emerged were bone conduction and ultrasonic speakers, but after much discussion we finally decided that wearable music fit the bill. In the end we settled on the idea of dividing the music up by parts, then separately piping them through sixteen channels and twenty micro speakers contained inside a special jacket and mixing them.
In the case of a live concert you have to be there to experience it, but this jacket is like being able to carry a concert around with you wherever you go. It differs from a Walkman, though, in that the way it sounds varies depending on the movement of your body. The base notes and vibrations produced by the subwoofer make you feel like you're really at a concert.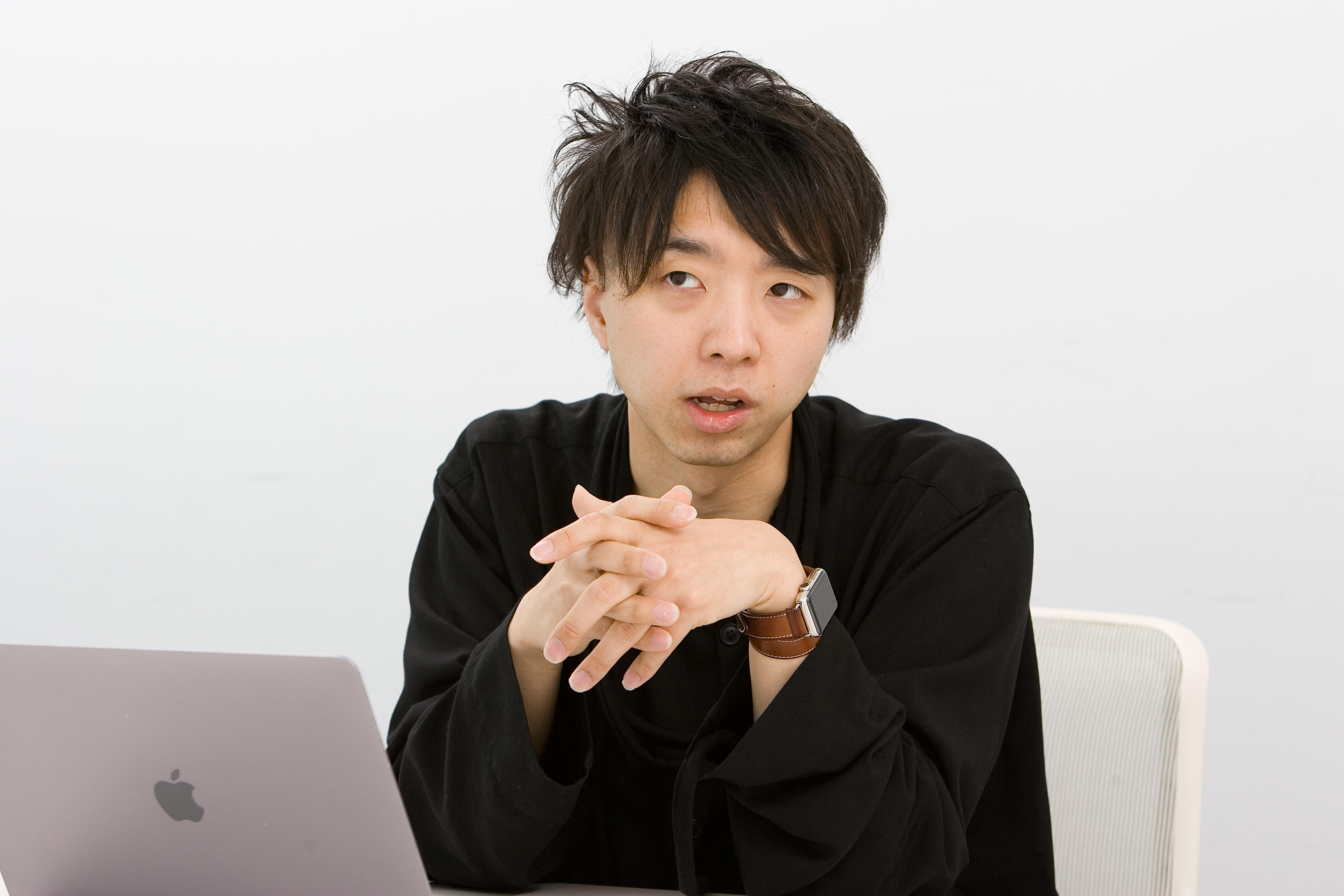 OCHIAI: When we actually got One Ok Rock fans to try the jacket on at an event, they were moved to tears. That really surprised me: I've been told my work as a media artist is amazing, but nobody's ever cried on me [laughs]. The jacket is a replica of that worn by the band's vocalist, and listening to the music with it on gives you an indescribable sense of oneness with the band. It's lightweight and the speakers are completely hidden, so even if you're a woman it feels just like a regular article of clothing, and it conveys sounds and vibrations that are not usually audible on headphones, which I guess allows you to identify with the vocalist. For a fan that must be an incredible feeling.
USAMI: For sure. Fans have two motivations for wearing it: first, you can go around in the same getup the band's vocalist, and second, when you have it on the music emerges from every part of your body, so it makes you feel just like you're standing right in the middle of the concert stage. That must be a totally new experience.
Acoustically, by the way, the jacket has an inventive design in terms of the placement of the speakers. The sound of the drums, for example, comes from the belly region because we wanted you to feel the beat in your gut, and the vocals reach the ears directly from around the shoulders.
OCHIAI: I myself learned something new working on the orchestral version of the jacket. There were speakers for sixteen channels, and I had the task of dividing them up by sound source and deciding where on the body to place them. That was a quite a hassle [laughs]. You can't split the human voice into two, but with an orchestra the music is already split up among different instruments, so all I had to do was put them in the correct place and the music sounded just right, without the need for any tweaking whatsoever. The sound was far superior to what you usually get from a speaker, so I was like "Wow!" [laughs]. That really felt great.
USAMI: You once described it as like experiencing an acoustical shower. That's exactly what it's like. I felt as if I was wrapped in a membrane like a barrier of sound.
OCHIAI: A barrier — I know what you mean. And you're not even wearing headphones. Nothing else gives you such a sense of vastness.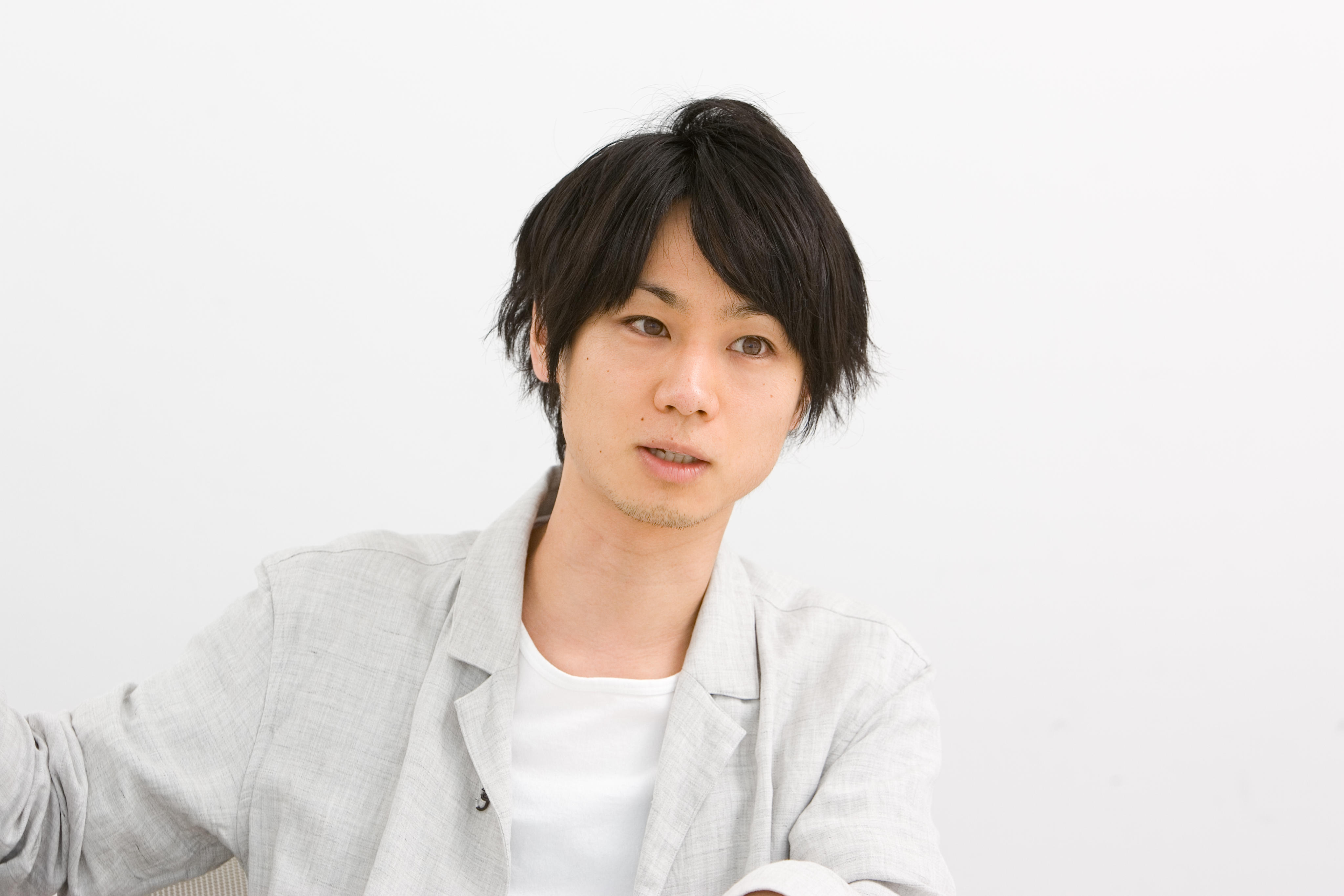 USAMI: This jacket would surely be a great match for artists who dress in over-the-top costumes like, say, Daft Punk or Lady Gaga. It would, I feel, be a fun way to create an event that lets you experience something between a live concert and listening to a CD. Another possibility would be to turn it into a new form of karaoke club entertainment. You could wear it cosplay-style when singing songs by a particular artist. If virtual reality is an augmented visual experience, then this jacket is an augmented listening experience. It could in the future evolve into, for example, a theme park attraction. If you took a roller coaster at an amusement park dressed in this jacket with sound effects emerging all around you…that would make for an incredibly scary roller-coaster ride [laughs].
OCHIAI: That I'd love to try pulling off [laughs]. The Live Jacket is neither a speaker nor a headphone. It lets you immerse your whole body in the music, with a bit of sound leakage. That makes it perfect for the festive mood of a theme park or special event. It would be fun to expand its applications in such directions.
Another thing: I understand that your specialty is architecture, Usami-san, so it'd be great to do something with an architectural twist together. A visual artist works with a screen and speakers, but I focus on sound transmission through space and the sense of sight, so architecture is a good fit for me.
USAMI: I'd definitely love to work with you on something like that.
OCHIAI: The pleasure would be mine. Let's create more cool stuff together!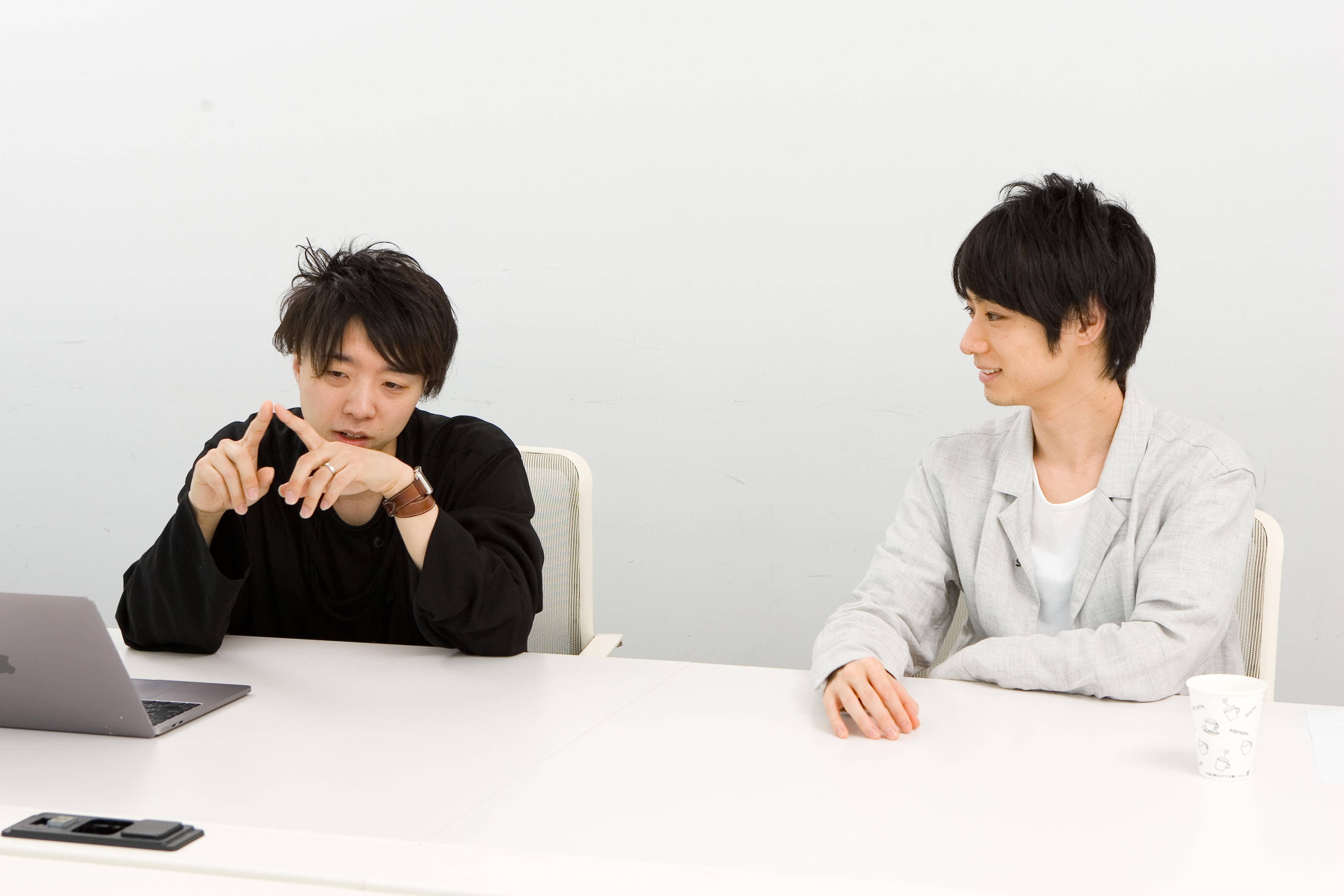 NOTE: Two versions of the Live Jacket (the Wearable One Ok Rock jacket and the Orchestra Jacket) are on display Friday, April 28-Saturday May 27 at an exhibition of Yoichi Ochiai's works entitled Yahoo! Japan Technology Art #01: Japanese Technium. You can try them on in combination with the Oculus Rift VR headset.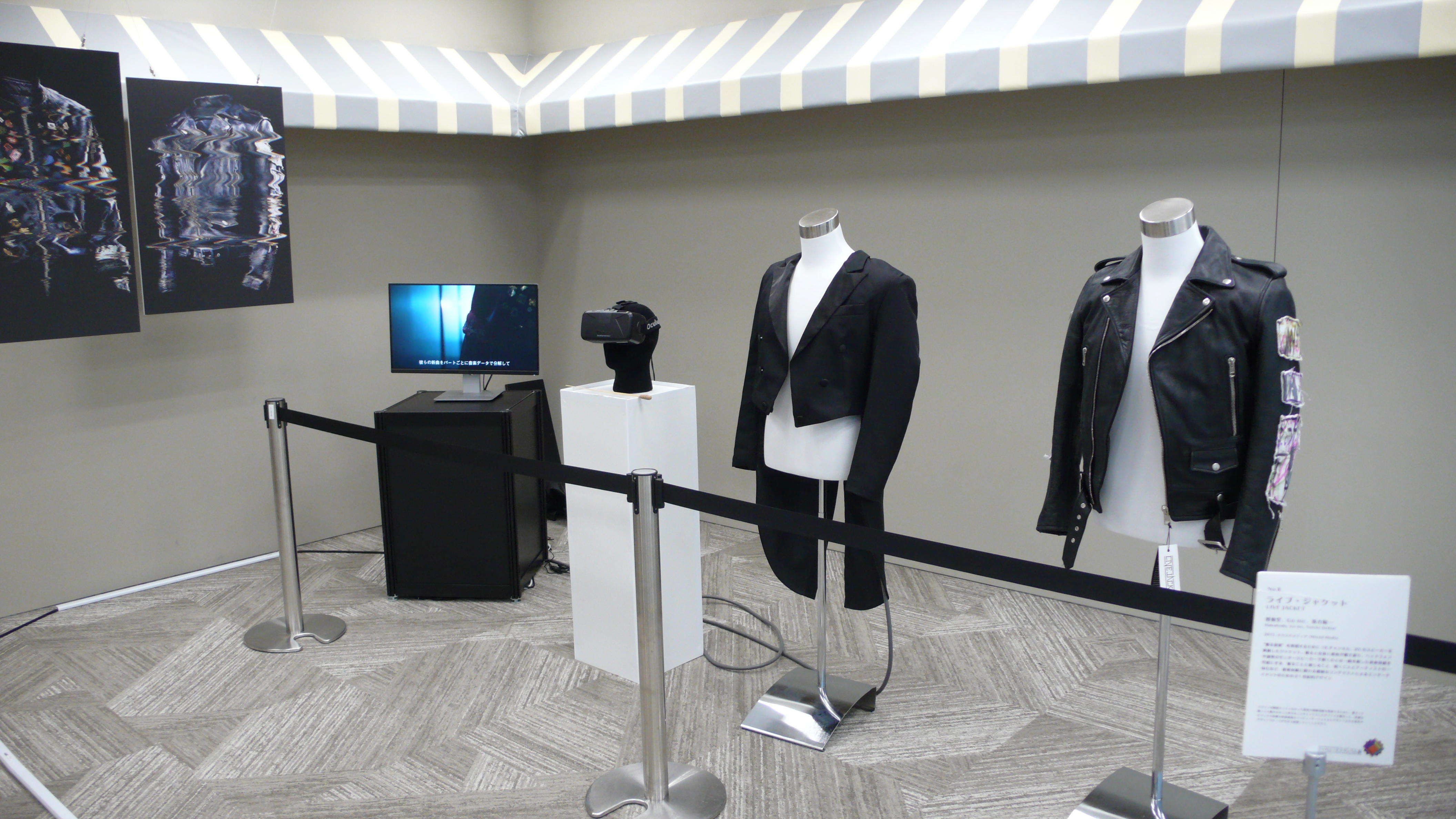 Left: The Orchestra Jacket, the orchestral version of the Live Jacket. Right: The Wearable One Ok Rock jacket.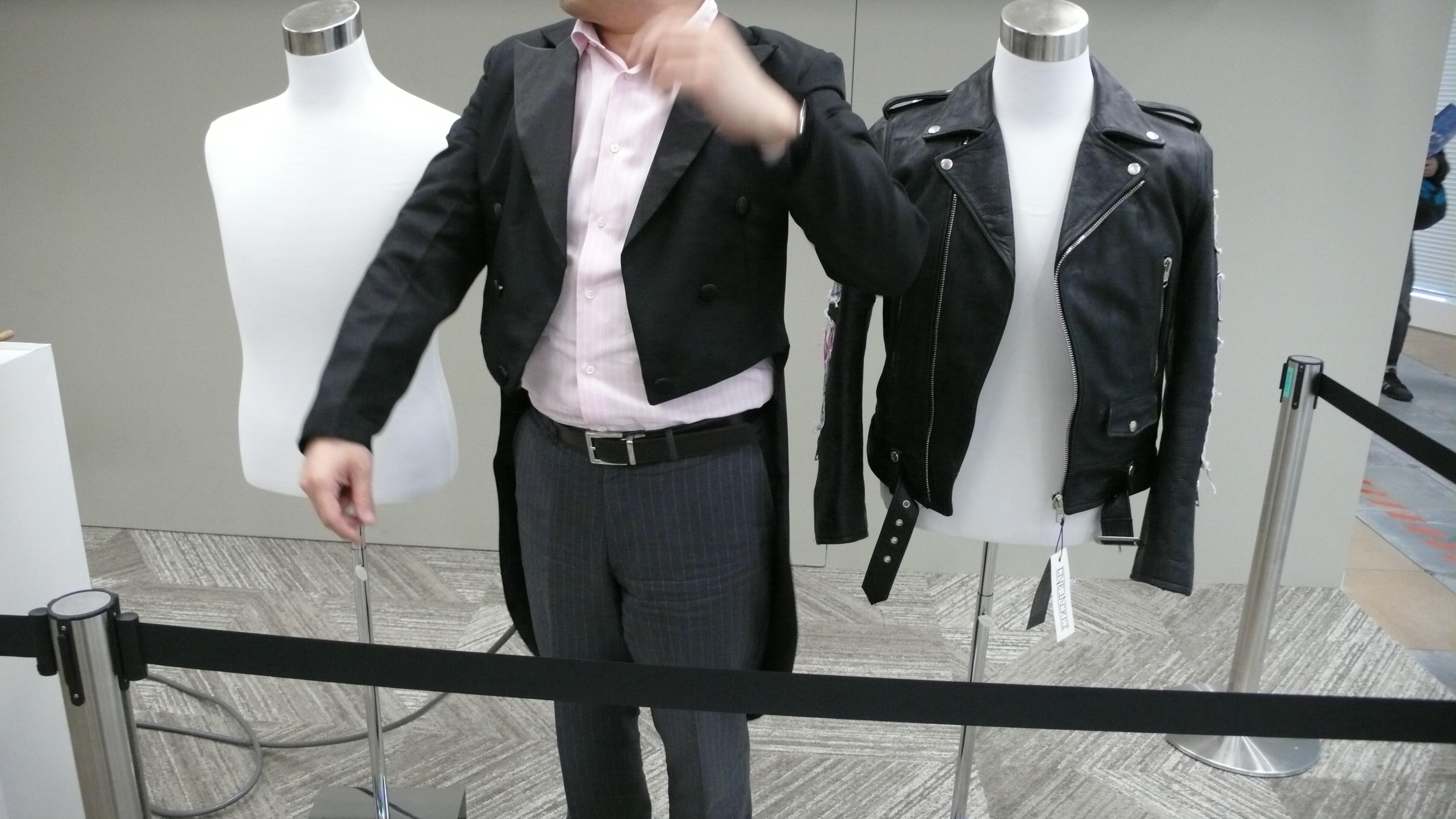 Actually wearing the jacket immerses you in music. It's such an electrifying experience you want to dance to the beat.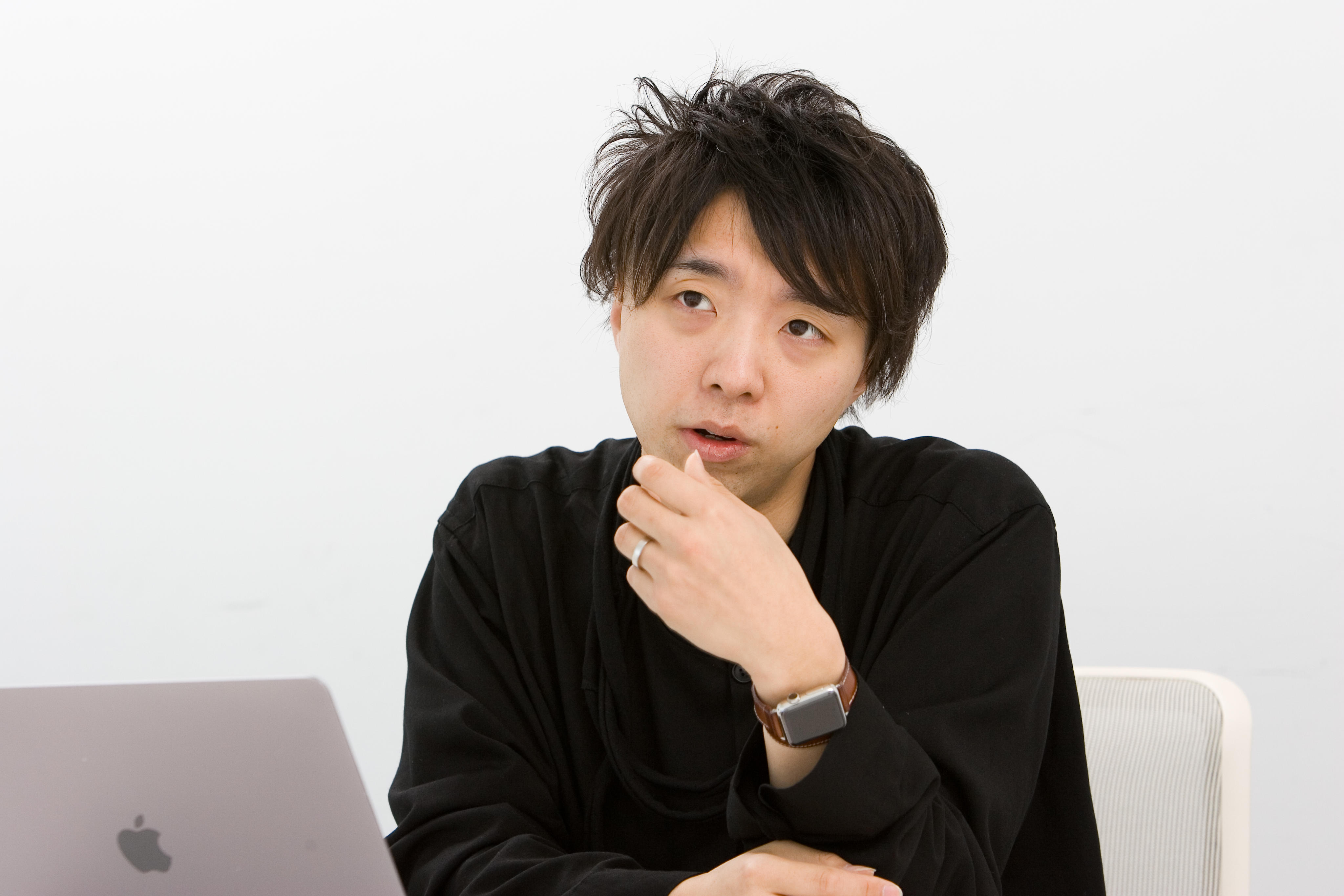 Yoichi Ochiai
Media artist. Assistant Professor, Advisor to the President, and Head of Digital Nature Group, University of Tsukuba. CEO of Pixie Dust Technologies. Board Member, Virtual Reality Consortium.
Fascinated by the possibilities of multimedia beyond film, Yoichi Ochiai is engaged in visionary research on what he terms digital nature. He is restructuring the boundaries between film and physical matter with computer holograms. Officially certified as a programming genius and super creator by the Information-technology Promotion Agency, Japan (IPA), Ochiai has won numerous awards in Japan and internationally, including the Prix Ars Electronica and the World Technology Award. Most recently he was selected as one of 200 Leaders of Tomorrow and 40 Knowledge Pool candidates at the 47th St. Gallen Symposium in Switzerland in May, and named as a Global Shaper by the World Economic Forum.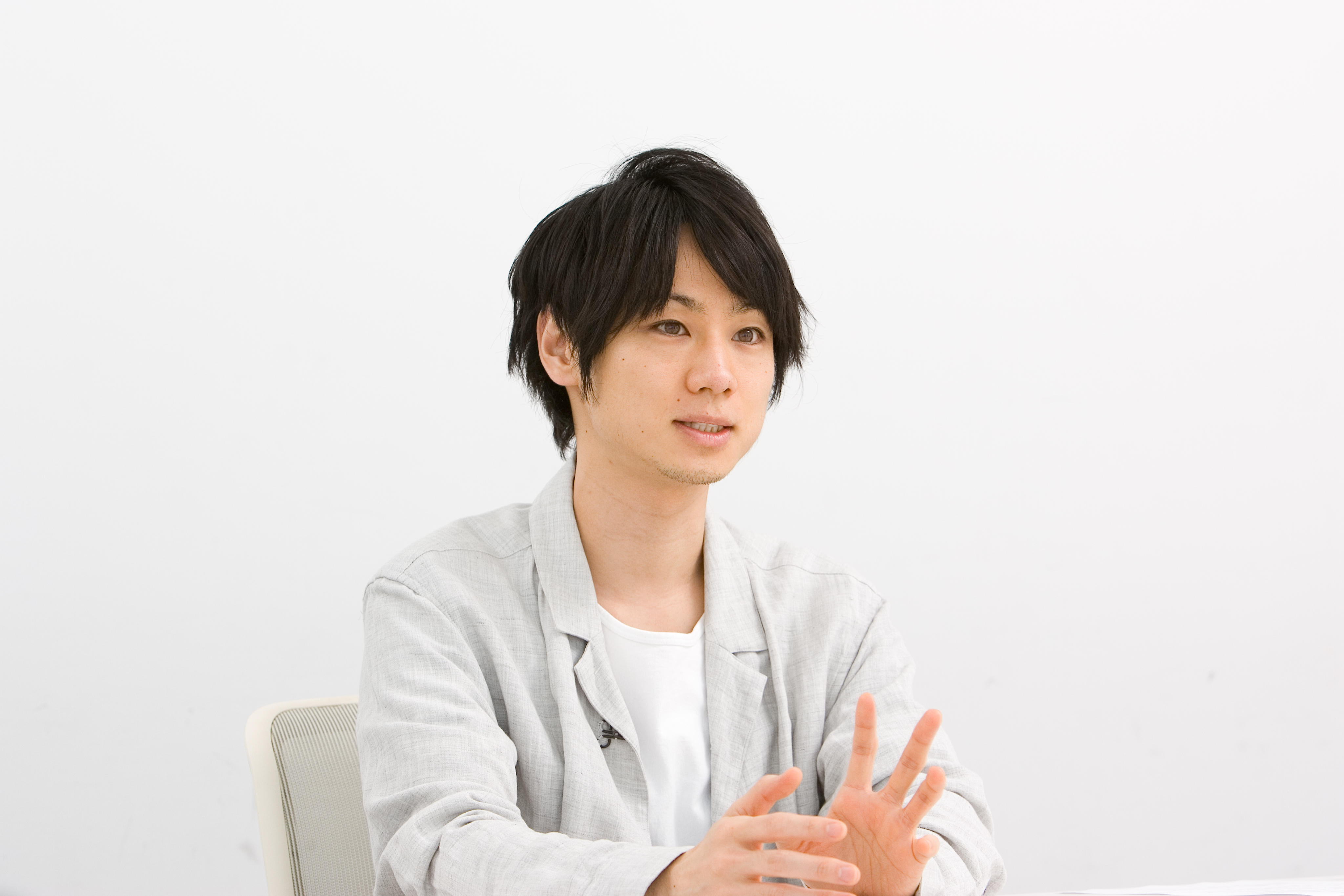 Masatoshi Usami
Copywriter, Corporate Planning Division, Hakuhodo
Born on the Japan Sea coast in 1984, Masatoshi Usami completed a graduate degree in architecture at Waseda University in 2009 before joining Hakuhodo. He has experience in the fields of spatial design and promotion and now works on creative productive. His activities extend far beyond advertising, and he has exhibited at Ars Electronic and South by Southwest (SXSW). He has won numerous awards in Japan and internationally.