As an advertising concern the Hakuhodo DY Group is also active in fields like sports and athletic casting. In this issue we talk to climber Marin Minamiya, who is supported by Hakuhodo DY Sports Marketing Inc., a member of the Hakuhodo DY Group. We ask her about the dedication and determination that lay behind her success in becoming the youngest Japanese to scale the highest peaks in all seven continents this July.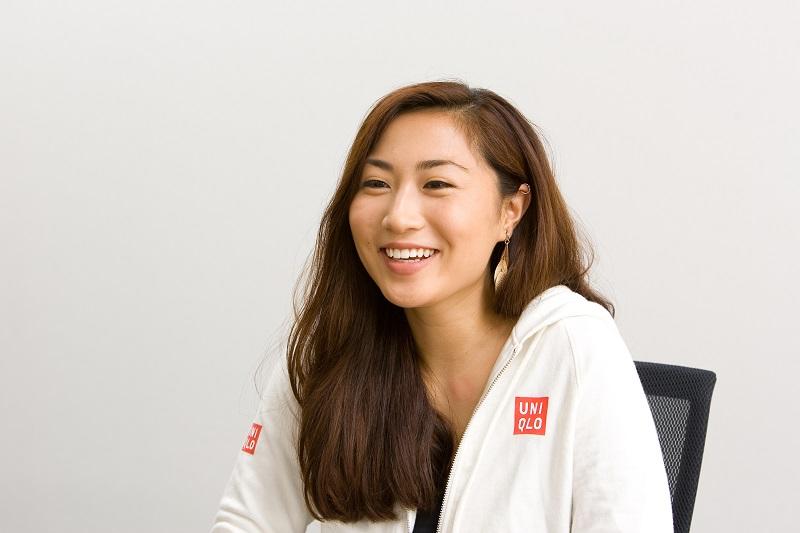 In July I completed the Seven Summits by climbing Denali in the United States (6194m, the highest mountain in North America,). Two months before that I made my assault on the world's highest peak, Everest (8848m, the highest mountain in Asia and the world). Scaling Mount Everest had been one of my biggest goals since I started mountaineering, and accomplishing that was a particularly emotional experience for me.
I first started mountain climbing in 2011. We were living in Hong Kong, where my father had been transferred, and the first mountain I climbed was in Hong Kong, on a junior high school trip. In Hong Kong my school was located among the high-rises of the city, and I spent my student days far from nature, but on the mountain you could see the cityscape far below, and that gave me an indescribable rush and sense of freedom. I immediately started visiting other mountains with my friends, and in two years I had ascended all the mountains in Hong Kong. Gradually I attempted more difficult climbs. We all saved up money and made trips to Nepal and Tibet. I took on higher and higher peaks. "One day I'll climb Everest!" I declared to my friends at the time.
It was around that time that I came across an article about Nimdoma Sherpa, the Nepalese girl. Though from a poor background, she climbed Everest when she was seventeen, magnificently demonstrating that as long as you have the determination you can accomplish even the most difficult feats. That really struck a chord with me. Maybe I could do it too. With that in mind, I seriously decided, upon returning to Japan at age seventeen, to make an attempt on Everest.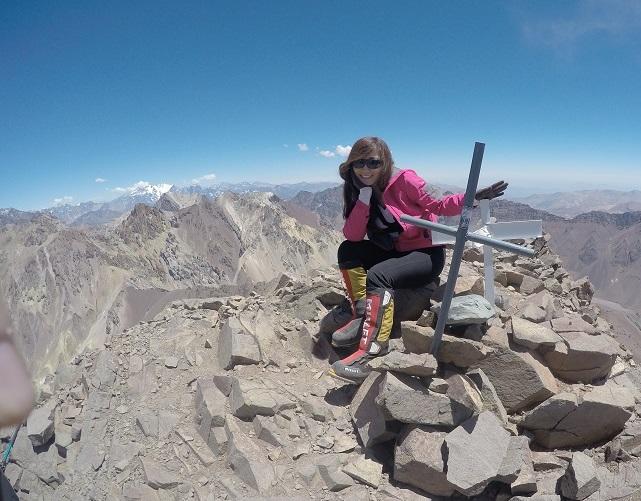 An assault on Everest costs a lot of money. Besides travel and accommodation, there's also the cost of hiring a Sherpa guide, plus the climbing permit costs several million yen. My father told me that he was rooting for me but wouldn't support me at all financially, so while attending high school I spent my free time phoning and emailing one company after another and actually visiting them to negotiate sponsorships. When I was in school in Hong Kong I gained experience raising money for school activities from local businesses and dealing with them in a PR capacity, and I think that allowed me to haggle without feeling that intimidated.
In addition to raising funds I also needed to find out whether my body could acclimatize itself to altitudes of over 8,000 meters. I took on Aconcagua in Argentina (6960m, the highest mountain in South America), Kilimanjaro in Tanzania (5895m, the highest mountain in Africa), Vinson Massif (4892m, the highest mountain in Antarctica), and the highest peaks on other continents. In the course of doing so I came to realize that a new goal lay before me: to scale the highest summits on all seven continents.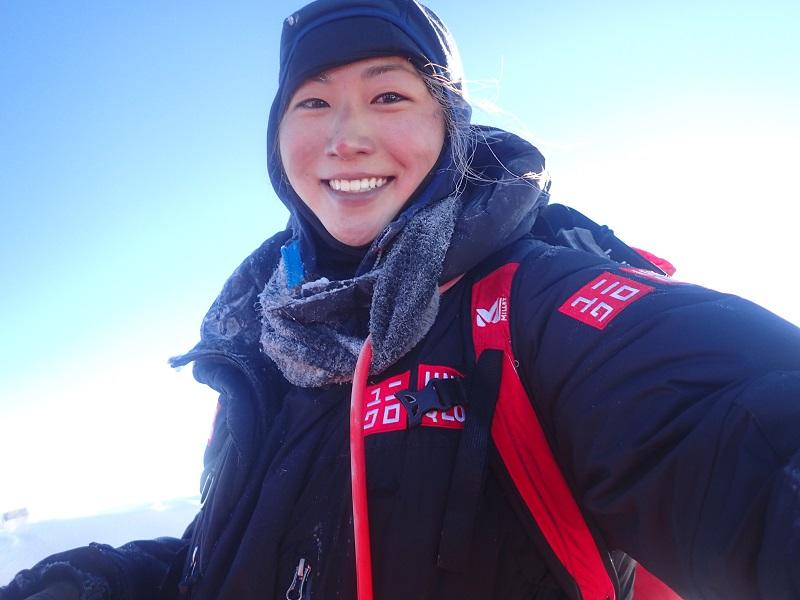 Climbing the highest peak on a continent takes several weeks or months including the return journey. The other people with you are almost all men, and it can take quite a physical toll. You may have to spend days and nights on end in your one-man tent waiting for the weather to clear in a gale with 200-kilometer winds. You can't take a bath or eat your favorite things. Sometimes you feel so lonely and anxious you bawl like a baby. But I'm doing what I love, so I've never felt it was mere toil.
When I made the summit of Everest, the weather had fortunately cleared and I got to enjoy the sunrise near the peak. Emerging from the darkness of night, part of the sky turned from purple to red to orange in the sunlight, while in another section of the heavens the stars were still shining. The sight of the magnificent Himalayas gradually appearing was so gloriously beautiful it truly took your breath away. The mountain can be cruel: in fact, someone I know who had done the climb only a few days before got frostbite on all their fingers and their nose, but luckily I safely made the descent without injury.
Mountaineering has taught me countless things. It's taught me to achieve goals by working with partners, and to be cautious when trekking to avoid mishaps. I've met all kinds of people from all over the world, including top brass from renowned companies and salarymen on solo journeys, and they're fascinating to talk to. But the most important thing is that I've developed the ability to keep doggedly working toward the goals I've set myself. My requests for funding were often rejected out of hand. " A young girl like you climbing a mountain like that? Impossible!" they told me. There have been countless moments when I've wanted to give up because the weather was miserable or I wasn't feeling well or the loneliness was too much. But I've never let anything stop me. I've always maintained a strong conviction that in the end you just have to do it. That, I think, is what's allowed me to accomplish such great things.
A Japanese friend of mine, though immensely talented, abandoned their dreams under the pressure of their environment and the people around them. I felt that was such a shame. Following your inner compass and being true to what you want to do can lead to things you never imagined and open up wonderful possibilities. There are several projects I want to have a go at in the future, and not just climbing mountains either. I hope that seeing me taking on new challenges will be a source of inspiration to at least some people, especially children.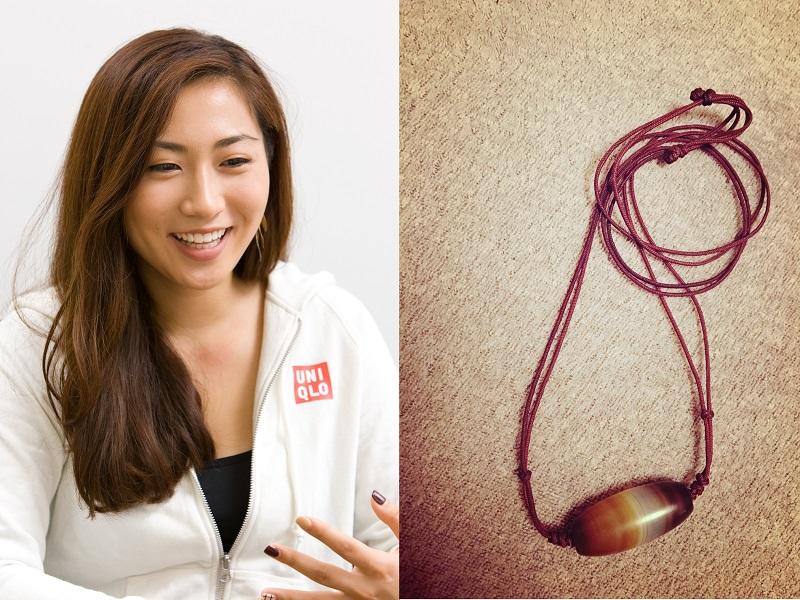 Marin wears an agate necklace whenever she undertakes a big adventure. "It was a gift from a Tibetan climber. The locals believe that agate comes from space and contains the power of the universe." She has reached the summit of every mountain she has climbed wearing that necklace and made it safely back without injury.
Asked the person she most admired, she replies Cleopatra. "She had Caesar in the palm of her hand when she was not much over twenty [laughs]. She lived life to the full, making full use of her wits and her beauty and her power to protect the things she cherished, and she has been the stuff of legend for several millennia. She was an amazing, wonderful woman."
Marin is currently (as of October 2016) in her second year at university. She is interested in working in the field of journalism one day in order to help build a peaceful world where people have greater empathy for each other.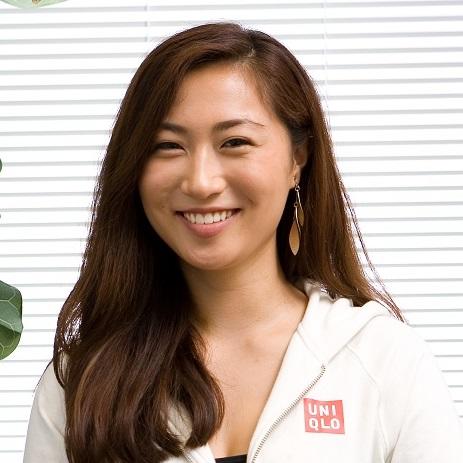 Marin Minamiya
Born in 1996, Marin Minamiya moved to Malaysia at the age of eighteen months when her father was transferred there. She later lived in Shanghai and Hong Kong, where she started mountain climbing in 2011. Having studied at South Island School in Hong Kong and Tokyo Gakugei University International Secondary School, she is now in the second year of the political science and economics program in the Faculty of Political Science and Economics at Waseda University. She climbed Aconcagua in January 2015 and has since travelled to one continent after another scaling the highest peak in each. On July 4, 2016, she reached the summit of Denali (Mount McKinley), becoming the youngest Japanese to complete the Seven Summits.