The growth of the Sei-katsu-sha Interface Market, as Hakuhodo has dubbed it, will require a new marketing approach that creates engaging data-driven experiences for sei-katsu-sha—the term Hakuhodo uses in place of "consumers" to mean real people with their own lifestyles, aspirations, and dreams.
What mindsets and innovations will it take to be a next-generation marketer? That question was addressed by Hakuhodo President & CEO Masayuki Mizushima at the Sei-katsu-sha Interface Market Forum 2020, which was held online in December 2020. Here's what he had to say.
The COVID-19 pandemic has transformed our lives, the business scene, and everything else around us. Despite news reports about advances in developing a vaccine, cases continue to rise in Japan. We're going to be living with the coronavirus for some time yet. Meanwhile, the digitalization of society is progressing at record speed. Remote working has caught on like wildfire. Paperwork is increasingly going digital and being completed online—take electronic signatures, for example. This is the new normal, and it's become noticeable even in our daily lives. Retailers now offer contact-free service. At restaurants, it's no longer unusual to order at your table by app, and pay by app as well.
Technological advances revolutionize people's lives. Online conference systems, for example, haven't just changed the way meetings are held. They've revolutionized how we perform our jobs and go about our routine. Now people are free to choose where they'll work on any particular day. You can hold down a job in Tokyo while living in the sticks. Restrictions of time and place have vanished, so you can choose the lifestyle right for you. Similarly, food delivery services haven't just changed people's meal habits. They've revolutionized the way they do housework and spend time at home. Now each member of the family can order whatever they want by app. No more wondering what to buy for dinner at the supermarket. People say that they have more free time for themselves, and more time to enjoy with family, now that they've been liberated from household chores.
Advances in digitalization lie behind these lifestyle changes. Progress in this field to date has been in the area of digitalizing information, primarily on computer and smartphone. What's now beginning is the digitalization of everything, as digital technology penetrates all aspects of our existence. In other words, it's the digitalization of life, and it will revolutionize our lifestyles and the way we live. A world is coming into being where everything is connected to the internet—the accessories we wear, the appliances we use, the cars we drive, the stores we visit, and indeed the cities we live in. Once things become digitalized and networked, they will start constantly transferring information to and from sei-katsu-sha. The spot where the two meet will cease to be simply a contact point and evolve into an interface where the mutual flow of information takes place.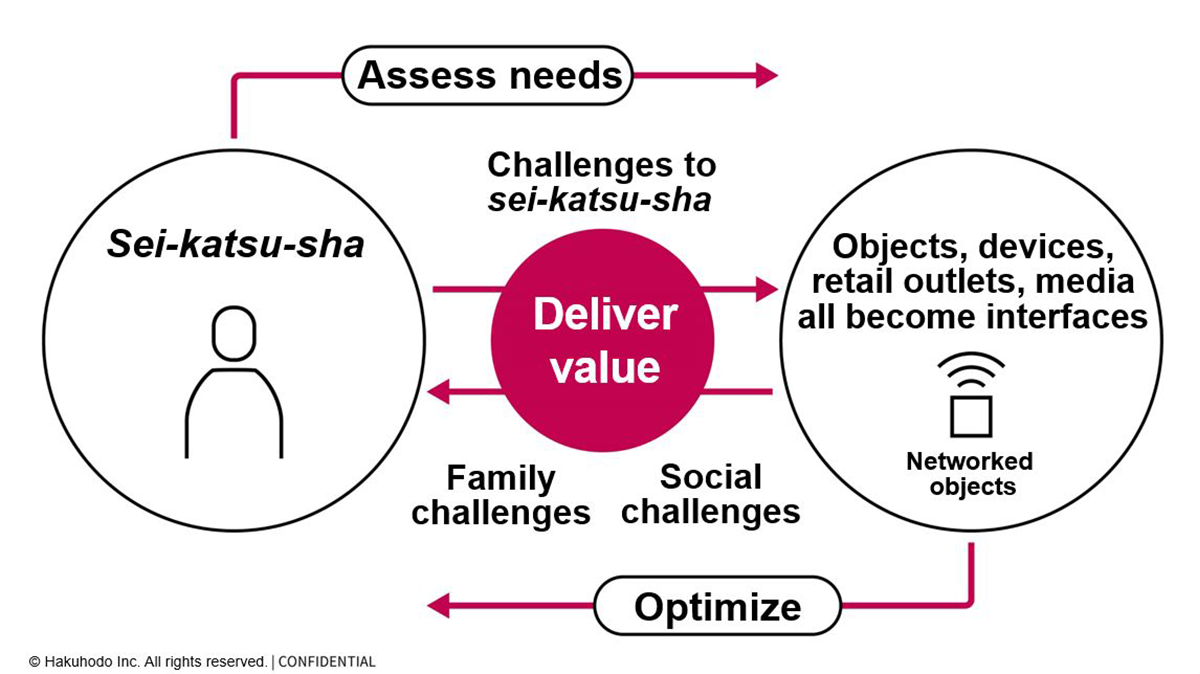 Networking of the objects and devices around us, along with retail outlets and media, will create one huge interface, making it possible to gather complete data on sei-katsu-sha's needs. That data can be used to offer services optimized to the individual. Online learning systems, for instance, will enable teaching methods to be personalized to each student. Until now test results have been the only way to gauge a student's progress. But an online learning system, by analyzing the student's facial expressions and tone of voice during class, can tell you where they tend to trip up and how well they're concentrating. Similarly, the image analysis technology embedded in a video communication system can be used for marketing purposes, to deliver ads tailored to the recipient's mood and situation. When you're making a video call to a friend, for example, the system might recommend movie tickets for the weekend. When you're holding an online drinking session with office colleagues, an ad for beer or pizza might pop up. You could then order it online. Those are some of the ideas that come to mind.
Each new extension of the interface between us and the objects around us will change our lives and create fresh marketing opportunities. Some of these new interfaces will span industry boundaries. A single interface may even have the power to redraw the map of entire industries. We at Hakuhodo have coined the term "Sei-katsu-sha Interface Market" to describe the explosive spread of such interfaces. We described the tremendous potential of this market at last year's forum. Well, with COVID ramping up the pace of digitalization, this new market has started expanding and growing even faster than we expected. Every point of contact between companies and sei-katsu-sha will come to function as an interface. Already such sei-katsu-sha interfaces have emerged in myriad forms—a development we thought was still some way in the future. It's obvious that we've now entered the implementation phase: how to incorporate those interfaces into business growth and marketing strategies.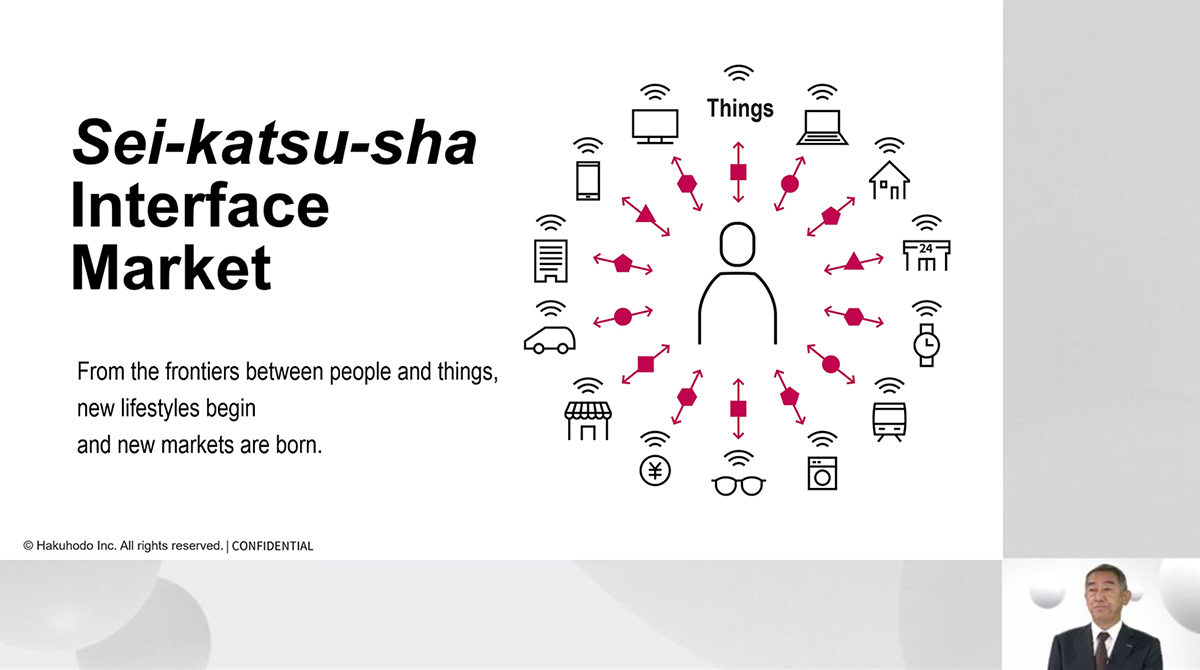 How exactly should you go about reforming and updating your marketing practices as the Sei-katsu-sha Interface Market expands? That's the question I'll now turn to.
The first point to note is the changing media landscape. According to a survey by Hakuhodo DY Media Partners' Institute of Media Environment, Japanese sei-katsu-sha spend 411.7 minutes per day consuming media—an increase of 61 minutes over ten years. Roughly half that time is spent consuming digital media on devices like smartphones and computers. Among young people, digital media accounts for over 70 percent of media consumption time among males and over 60 percent among females. With the advent of smart TVs and internet radio, the mass media is rapidly going digital. Certain outlets have started experimenting with providing services that leverage data collected from sei-katsu-sha. Media platforms will increasingly take on the role of interfaces as the walls separating the mass media from digital media crumble.
The spread of such interfaces will transform retail as well. This year has been dubbed the first year of the digital transformation of the retail sector. Digital signage with built-in AI cameras, smart shelves capable of displaying dynamic pricing, smart carts, and similar technology will allow greater interaction with store visitors. This makes possible sales promotional techniques that can be rapidly adjusted to the time of day, the surroundings, and the customer profile.
Direct touchpoints between businesses and sei-katsu-sha are proliferating as the Japanese ecommerce and D2C markets continue to grow. The transformation of sales channels into interfaces will further gather pace under the impact of the COVID epidemic. Contact between businesses and sei-katsu-sha has all been one-way until now: companies got out their message via advertising in the mass media or sales promotions in store. But now touchpoints between businesses and sei-katsu-sha are becoming increasingly varied: media platforms, retail outlets, direct channels. All will come to serve as interfaces for exchanging data. As they evolve, the ability to design interactions for each will become essential. So too will a new set of UX-oriented marketing and communication techniques for integrating all types of interfaces.
The value chain, too, will evolve. The traditional value chain has been product-oriented. It proceeds in a single line from product development through manufacture, sales, and after-sales service. But now a new way of thinking is required based on the idea of the integrated value chain. That means optimizing individual value chains by building on a shared data platform, in order to maximize customer value. Some companies, for example, now archive and analyze data about inquiries, requests, and complaints received by their call centers, so that data can immediately be applied in product development. Some companies save inquiries received by customer support in a database, so that information is immediately available when serving customers in store. Others use a single shared data platform for advertising, CRM, and sales force automation in a bid to get the most out of their overall operating budget. But a lot of firms still use a different data platform and set of tools for each value chain. The first thing they need to do, I'd suggest, is work on establishing an integrated data platform.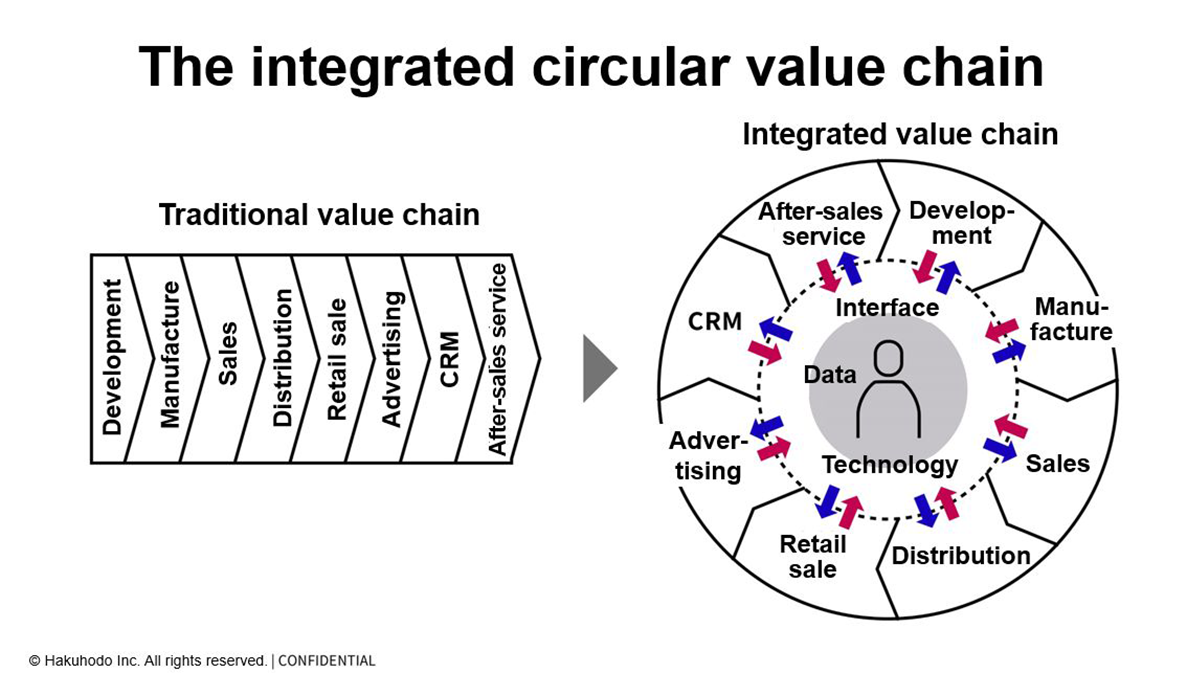 Advances in sensor and camera technology are already generating a steady stream of sei-katsu-sha interface data. The Hakuhodo DY Group has started working with Informetis, with which it has a financial and business partnership, on a joint research project on marketing applications for electric power data. This is designed to deduce which appliances are used when by analyzing data on power consumption, which differs depending on the appliance. Knowing the times at which each appliance is used in a particular household tells you about the household's routine: meals, housework, sleeping habits, and so forth. You can then construct a "lifestyle DMP" that reveals each household's lifestyle patterns. That, we believe, could revolutionize the marketing of household appliances, food products, and more.
Thus the expansion of the Sei-katsu-sha Interface Market will make available a wider range of data, alter the value chain, and transform the relationship between businesses and sei-katsu-sha. That's why marketing needs to be reinvented. More and more companies are tackling digital transformation and taking on the challenge of overhauling their approach to marketing. But too often such efforts are confined to digitalizing existing customer touchpoints and value chains. They're focused on boosting efficiency. What digital transformation is really about, in our view, is enriching people's lives through advances in digital technology. In the marketing field, DX isn't just a matter of digitalizing stuff in the name of efficiency. It needs to be leveraged as a means of truly creating value and thus enriching lives. The concept of the Sei-katsu-sha Interface Market is essential to accomplishing that goal.
We're committed to working alongside you in revolutionizing marketing by making that market much, much bigger
Continued in Part 2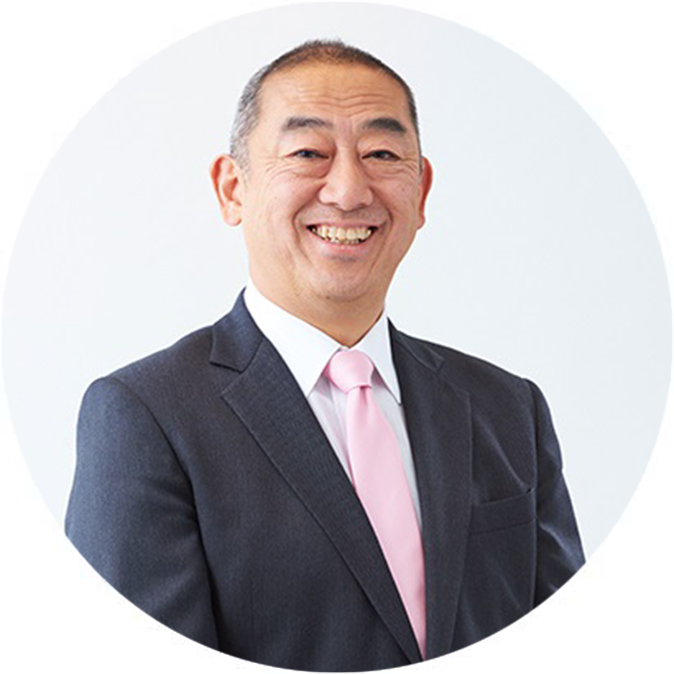 Masayuki Mizushima
President & CEO, Hakuhodo Inc.
Masayuki Mizushima joined Hakuhodo in 1982. After stints as General Manager of Account Service Division 6 and as Director and Senior Corporate Officer, he was appointed President and CEO in April 2017. He has held a concurrent position as Representative and President of Hakuhodo DY Holdings Inc. since June 2019.