Hit Habit Forecast is a regular column of the Hit Habit Makers, a group of young planners at Hakuhodo HQ that gamely stood up to say they were going to create hit habits—not hit products—as consumption shifts from purchasing things to purchasing experiences.
Analyzing social media accounts and purchasing data of highly sophisticated users and conducting analysis on popular articles, etc. in a variety of media that have their fingers on the pulse of social trends: this is the bold, new challenge of forecasting hit habits that are about to break.

Hello. I am Jiang Yuan of the Hit Habit Makers.
Suddenly, we're in the third month of self-isolation, which began in April, and can expect to hear the footsteps of the rainy season approaching at any time. In Japan, the state of emergency was lifted two weeks ago, and those of us sick of isolation have started heading to the beaches and mountains.
In China, which is ahead of Japan in bringing COVID-19 under control, economic activity has restarted in earnest, and some of those who had been refraining from shopping have started what could be called "payback consumption," and more are traveling within the city they live in or venturing into adjoining areas, even as they remain alert to the novel coronavirus. Things are steadily getting back to normal, with traveler numbers across the five-day break around this year's May Day holiday at the start of May totaling 115 million, admittedly down on the 195 million travelers in the three-day break around May Day last year.
In this column, I'd like to focus on, yě cān (picnics), which are suddenly all the rage among young people in China.
A culture that started in France, the UK and elsewhere in Europe, the picnic involves taking a wicker basket packed with food to a nature spot to eat. They never really took on in China, where the food culture prefers hot food and drinks.
But looking at Baidu Index, searches for "what to take to a yě cān" suddenly started increasing from March this year, when it started to look like COVID-19 was under control. Even after the peak in the beginning of May, searches have remained high.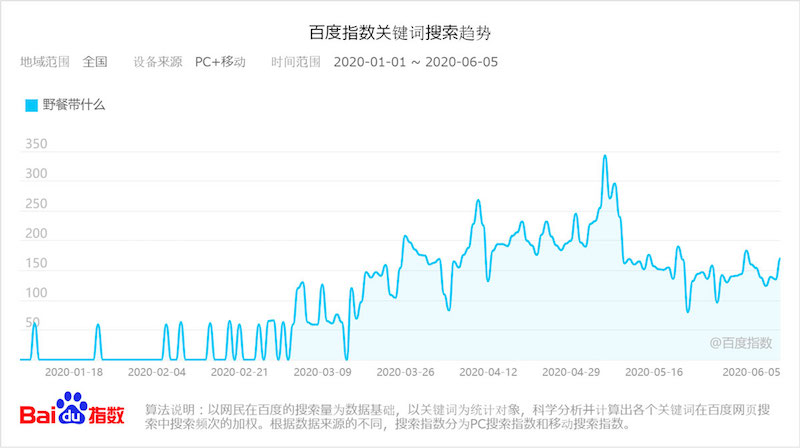 On the internet, 2020 is being called "Year 1 of the yě cān in China." Even on a word of mouth ecommerce app that is hugely popular in China, there were 13.6 times more yě cān-related posts this May than the same period last year. Looking at users' posts from the most recent month, we see nostalgic photos with checkered picnic tablecloths, country-style picnic baskets, Insta-worthy snacks and desserts (even though they're cold), champagne glasses and balloons for decoration abounding like never before. With the easing of restrictions on leaving the home, some people are enjoying time with their family and friends in wide open spaces surrounded by nature, while others on livestream shopping channels are crossing from the studio to yě cān scenes to sell various products in real time: each has their own yě cān motives.

So why are yě cān, which have never really been a thing before, spreading now? I believe there are two major factors that capture the psychology of young people in China.
One is the heightened popularity of outdoor leisure. It's said that an unprecedented boom in the popularity of outdoor recreation has been underway in China since a few years back. Increasingly, the 80-hou and 90-hou generations (people aged in their 20s and 30s that were born between the mid-1980s and the 1990s) and others that have the wherewithal, are enjoying outdoor pastimes like mountain climbing, barbecues and fishing as ways of savoring nature away from their everyday lives to escape life's stresses. Plus, yě cān are a realistic option while restrictions on travel between provinces remain in place, so it's highly likely that this ease has led to them becoming a habit.
The second factor is the tradeoff between "ceremony" and economy that is important to young people in China. Many young Chinese are struggling with reduced incomes due to COVID-19, but they still want to enjoy a feeling of superiority, even if only on social media. In other words, as a means of getting lots of "Likes" on social media, yě cān are being selected as a cost-effective way to spend a day off thanks to their ability to be portrayed as out-of-the-ordinary and ceremonial with just a few tweaks.
Finally, let's consider business opportunities that yě cān offer in more detail.
Examples of yě cān business opportunities
■ Online booking services that handle all things picnic, from getting necessary supplies to preparing the food through to cleanup afterwards.
■ Services that provide virtual yě cān experiences utilizing office building rooftop gardens, with added digital art.
■ Development of livestreaming music and video content to make yě cān even more fun.
I feel like I've just about had enough of self-isolation, which has been going on for over two months. From now on, I want to meet others not through the screen but in person, I want to enjoy nature, I don't want to be beaten by COVID-19—or the rainy season—and I can't wait till the day I can go out for yě cān.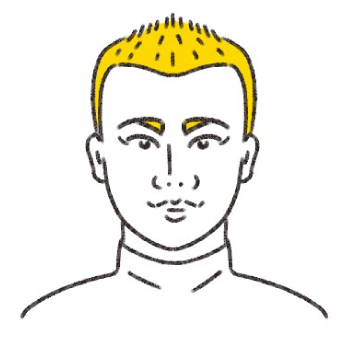 Jiang Yuan
Member of the Hit Habit Makers,
Integrated Planning & Creative Division
Hakuhodo Inc.
Jiang Yuan joined Hakuhodo in 2017. He spends his days searching for hints for his work in the hit habits of China, a country that seems close but is distant. A natural-born chili head, he loves nothing more than the Hunan cuisine of his hometown, said to be the spiciest in China.