Tokyo—September 3, 2015—Hakuhodo Inc. (Minato-ku, Tokyo; Hirokazu Toda, President & CEO), Japan's second largest advertising company, has announced that Hakuhodo Indonesia, one of its group agencies, has been named the Best of the Best Creative Advertising Agency at Indonesia Agency of the Year 2015, hosted by MIX Marketing Communications Magazine, Indonesia's only marketing and communications journal.
Indonesia Agency of the Year award winners are determined based on the number of points acquired by an agency in a survey of advertising and marketing people. This year responses were taken from 315 respondents at advertisers that have actual experience working with the agencies. Awards were given in five categories: Creative Advertising Agency, Brand Activation Agency, Digital Agency, Media Specialist Agency and Public Relations Agency, with the top agency in each category named The Best of the Best Agency.
Hakuhodo Indonesia's president, Irfan Ramli, said, "We are greatly honored to be so highly regarded by so many clients. We will continue to offer high quality marketing solutions going forward."
The Hakuhodo DY Group will continue to strengthen its global service structure as a partner in our clients' business and marketing activities.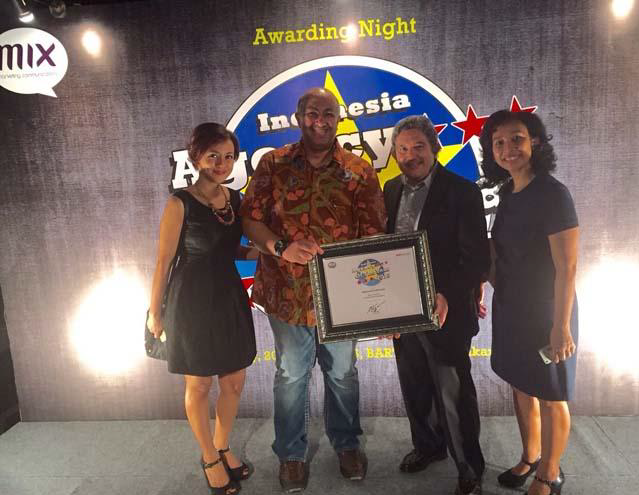 Hakuhodo Indonesia staff at the awards ceremony
(Irfan Ramli stands second from the left)