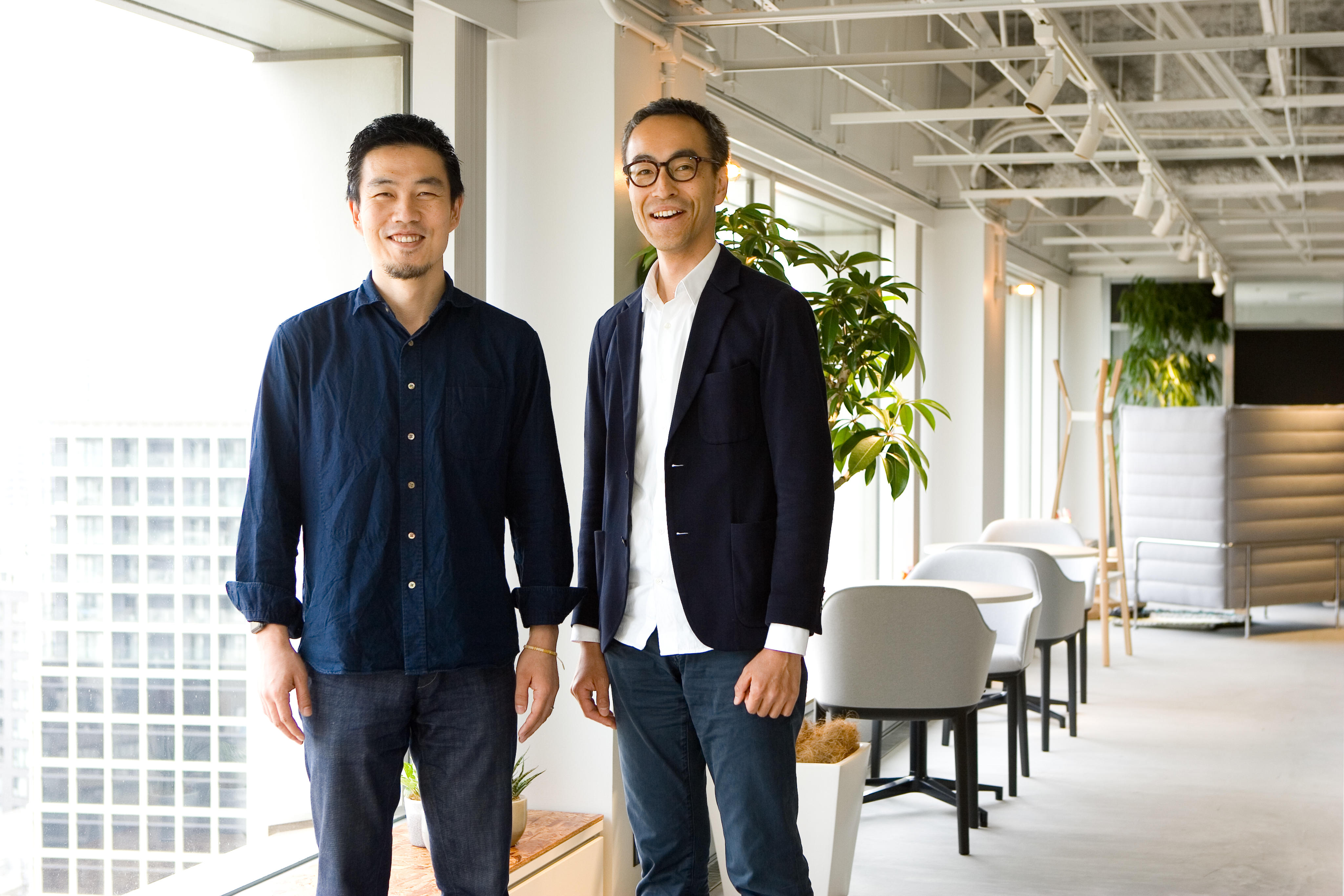 Hironori Iwasaki (right) and Seiichi Okura, HUX Department, Hakuhodo Brand Innovation Design Division
HUX, which stands for Hakuhodo UX & Service Design, is a project launched by Hakuhodo in March 2016 with the goal of creating experiential value that is truly meaningful for sei-katsu-sha (Hakuhodo's term for consumers with a heartbeat). It acts as a one-stop shop for formulating strategy, designing digital experiences and services, and executing marketing communications, all with the focus on the user experience (UX). In April 2017 the project was reincarnated as a new department within the Brand Innovation Design Division called the HUX Department. Hironori Iwasaki (strategy) and Seiichi Okura (UX & creative production) talk about the background to the project's launch, the concept behind it, and their future ambitions for it.
OKURA: The HUX project kicked off just last year. Only recently has the term UX or "user experience" come into use at Hakuhodo. Until now business projects started with a strategy, and then you developed the product or service and built a marketing campaign around it. But in the past few years a shift to a new way of thinking has been taking place: first you ask yourself what kind of experience you can bring the customer, and then you go from there to formulate strategy and develop your product.
IWASAKI: It used to be that the only touchpoints with customers were mass media outlets like TV and newspapers, but thanks to advances in digital technology people are now permanently connected on their smart devices. People are constantly experiencing something or other on their smart devices, whether using an app or receiving a message via push notification. So naturally that gets high priority. The following diagram is one we use when describing what we do. In the past you would think like a business and develop a business strategy, but now the idea is that you should give the UX center stage, with business strategy and products and marketing revolving around it.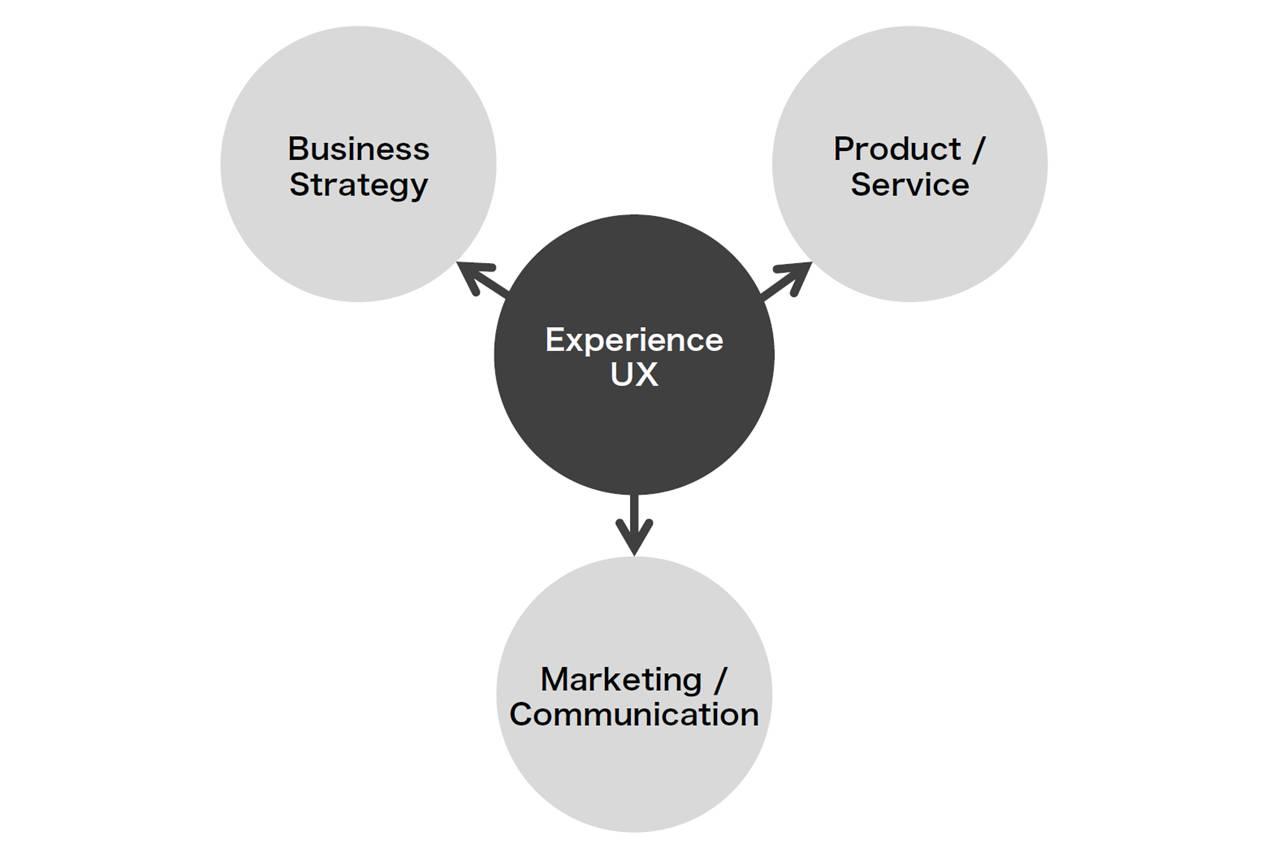 OKURA: This way of thinking may still be fairly unfamiliar in many industries, but to us with our constant focus on sei-katsu-sha insight this diagram makes a lot of sense. How will the company's services or products be used? How do you get people to understand the new value they deliver? The task of "translating" such things by putting ourselves in the customer's shoes is something that, as an advertising agency, we've been doing all along in the real world. Expanding on that way of thinking, the HUX team handles the entire process end to end, from formulating strategy to designing digital experiences and services to executing marketing communications.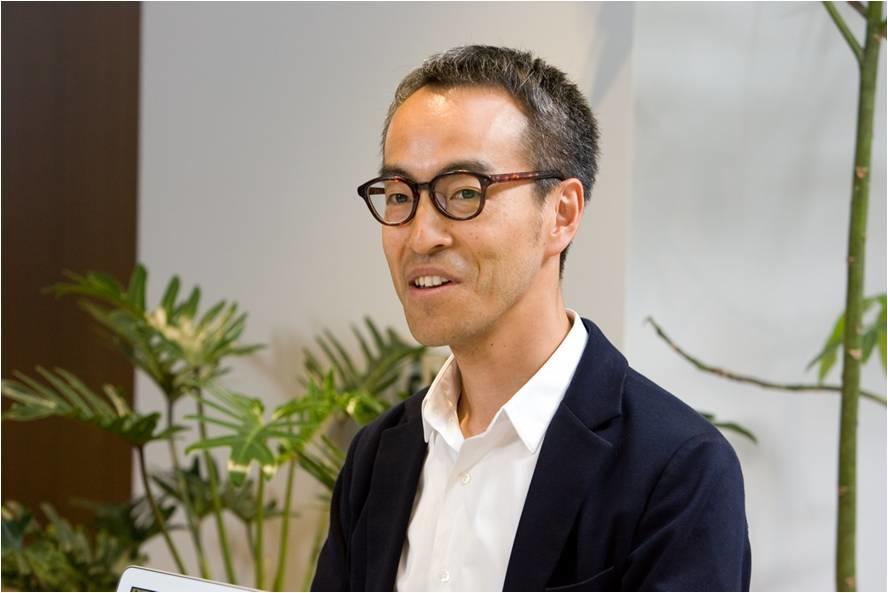 IWASAKI: Many different industries are now moving into the UX field, and major consulting firms have actually already started working in it. Our big advantage among them, I think, lies in our creative prowess in the broad sense of the term: our ability to formulate hypotheses and work out the right answer in the shortest time, and the way we're able to backcast from how it's envisioned the product or service will actually be used. No other company has our ability to bring together experts in the fields of creative production, strategy, research, and digital, identify business opportunities through the eyes of sei-katsu-sha, and then creatively build a business or service on those foundations.
OKURA: For example, in one job for a vehicle leasing company we developed a service to monitor elderly drivers; the service has already become available. A special device is installed that detects what the car is doing, and the driver's family is alerted if they drive dangerously.
The original brief we were given was to think up a service for consumers that would make use of the driving data collection device already in the client firm's possession. In response we proposed monitoring elderly drivers by making smart use of the firm's vehicle management system for corporate clients.
IWASAKI: The typical advertising agency job starts with a client approaching you with a product they've made and asking you to market it for them, but in this case we began by working with the client on developing the business or service itself. In the past the client company would develop the business and Hakuhodo would help with marketing, but in recent years it's become more and more common for us to be brought on board from the business creation stage.
OKURA: When you talk of UX, there's a tendency to think solely of the user, but when thinking up a service it's also important to always keep in mind the company's assets and resources. While creativity is of course essential, it's advantageous in that regard to have a strategist to do research and someone capable of properly evaluating qualitative information in the form of data. It's also important to be able to properly supply the material that will let the company make its next move.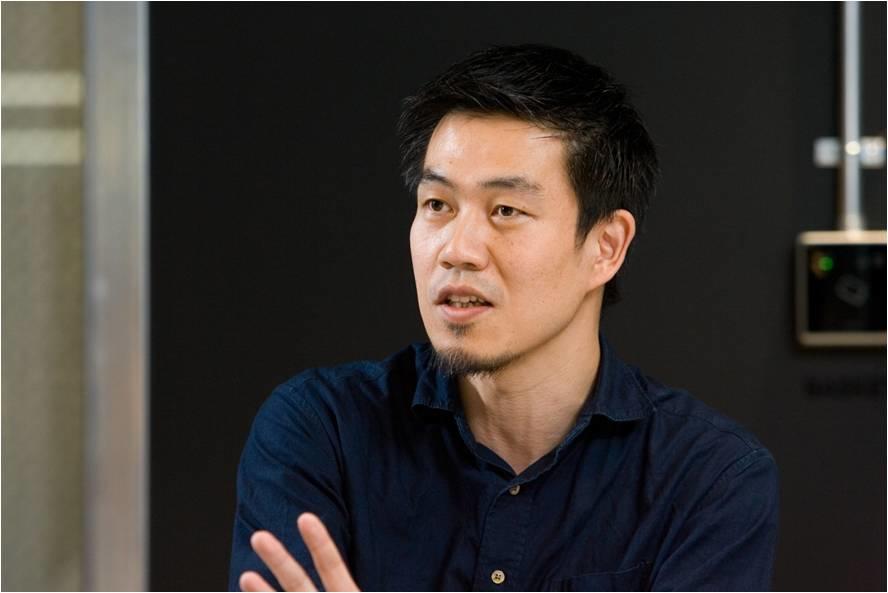 IWASAKI: A lot of companies these days, I feel, have a mounting need to create new business and enterprises involving digital technology, while existing operations are still being digitized. Designing services in the digital field will, I think, continue to be a major focus.
OKURA: A good service is one that puts the user in charge and offers a fresh perspective on their everyday routine. So we believe, and that will continue to be our goal.
IWASAKI: For sure. In the process we'd love to be able to come up with services that the public really needs and that create a brighter future for people.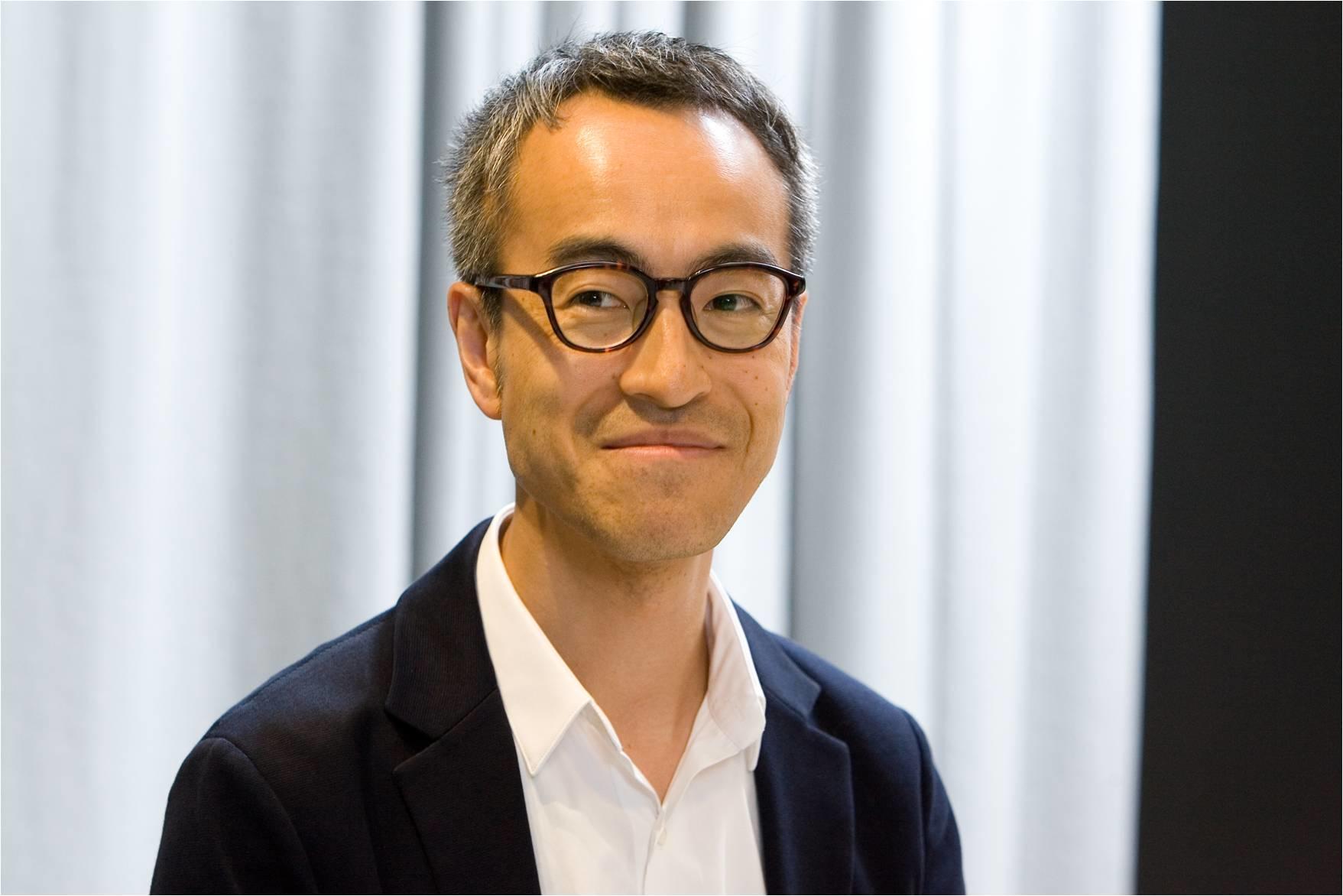 Hironori Iwasaki (strategy)
HUX Department, Hakuhodo Brand Innovation Design Division
After working on marketing strategy and brand innovation projects in Japan and elsewhere, Hironori Iwasaki completed design school in Chicago. He then interned at a design firm in the United States before joining Hakuhodo, where he currently leads an innovation consulting project.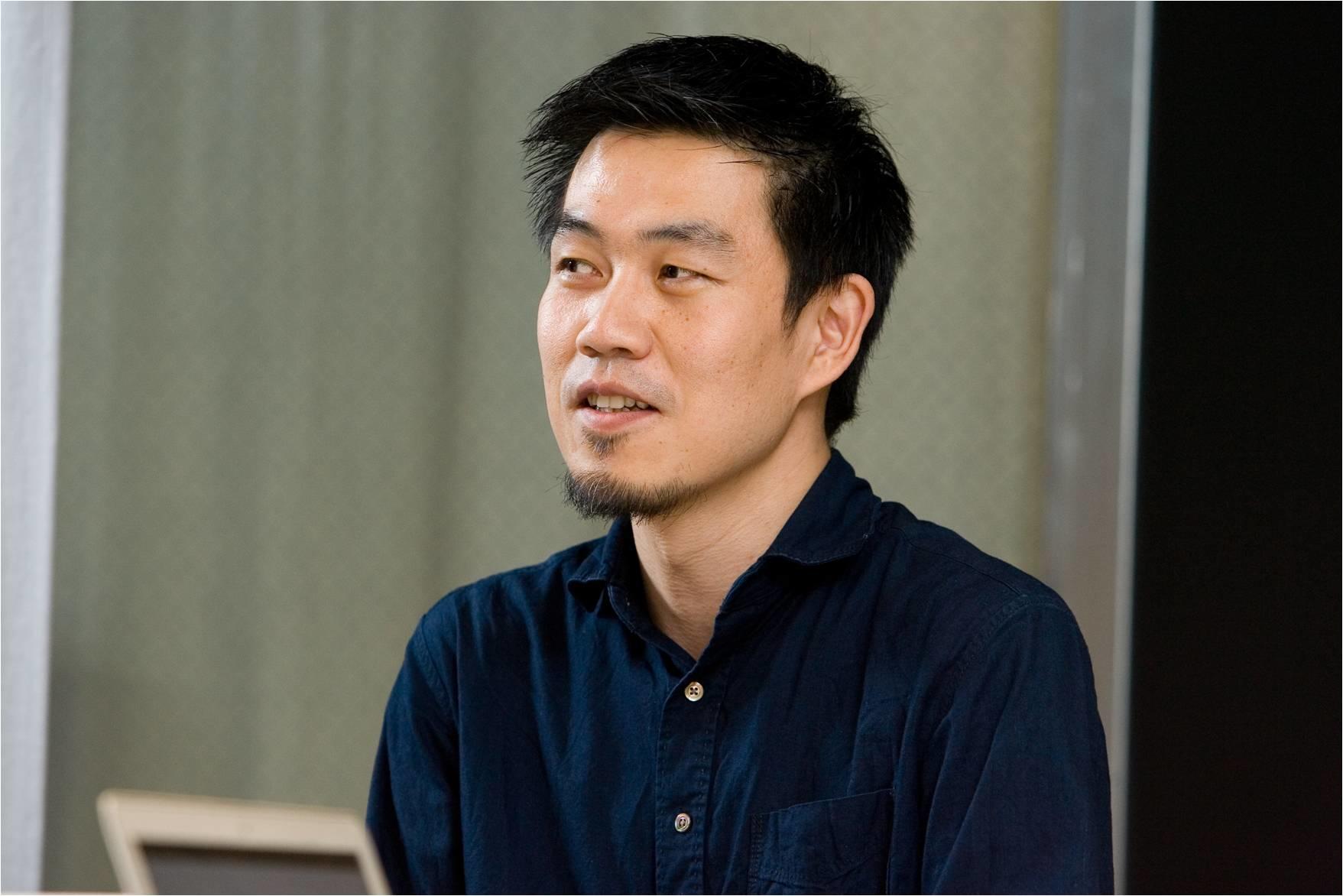 Seiichi Okura (UX & creative production)
HUX Department, Hakuhodo Brand Innovation Design Division
Seiichi Okura has received numerous advertising awards both in Japan and internationally, including winning Cannes Lions four years in row. He went to study in San Francisco in 2012 and completed an on-the-job training program as a UX designer at the strategy and design firm Cooper. He currently leads an innovation project at Hakuhodo as UX director.