CES Asia took place in Shanghai, China, June 7-9. This is the Asian version of the Consumer Electronics Show (CES) held every year in the United States, one of the world's largest technology tradeshows, and like its US counterpart it is organized by the Consumer Technology Association (CTA). This is the third year that the event has been held in China. More than 450 companies from around the world exhibited at the show, and it attracted over 35,000 visitors, 1,100 media outlets, and 75 startups, making it the biggest CES Asia yet. Artificial intelligence (AI), smart homes, self-driving technology, virtual reality (VR) and augmented reality (AR), and robots were prominent among the exhibits as at the American Consumer Electronics Show in January. Some major Japanese corporations also took part, though fewer than at the US show.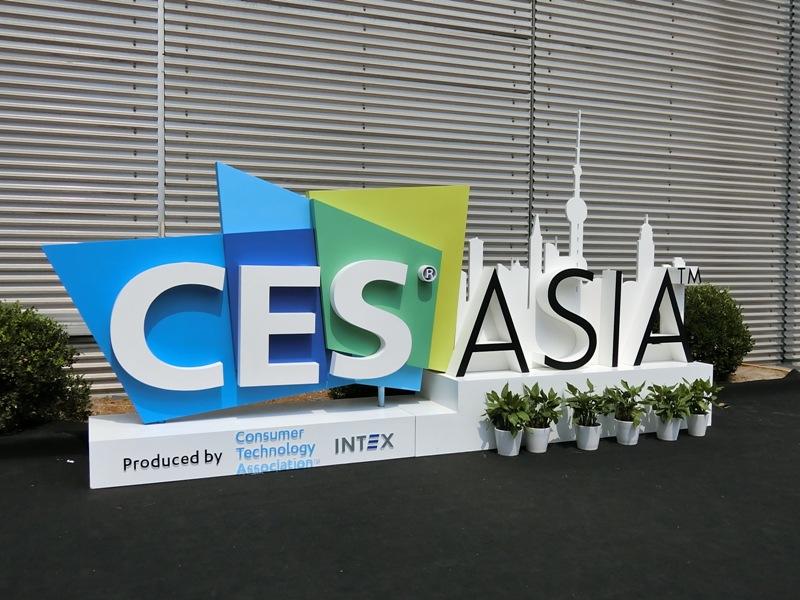 The CES Asia site
One thing that's struck me working on the global stage is how rapidly Chinese technology and services have raised their profile in Europe and North America. Amazon Alexa took CES in the US by storm this year, and with the evolution of the Internet of Things all eyes are on voice control as the next generation of interface technology. CES Asia coincided with Apple's Worldwide Developers Conference (WWDC), where the Siri-compatible speaker HomePod was unveiled. I thus headed to Shanghai eager to see whether CES Asia would fall in line with these developments or take a distinctively Chinese direction. Well, I was overwhelmed by the sheer speed of China's progress. Here I shall describe several technology trends unique to China that made an impression on me at CES Asia.
I'd pictured China mainly as a producer of new but somewhat rough-and-ready hardware gadgetry, but I discovered that over the past couple of years it had made remarkable progress in the design and feel of its products. The cheap, shoddy wares of the past were nowhere to be seen. Some items were every bit as good as anything from Apple, and I felt the urge to own them myself. At many companies' booths you could see a shift in focus to contextualizing technology by showing how it could change people's lives.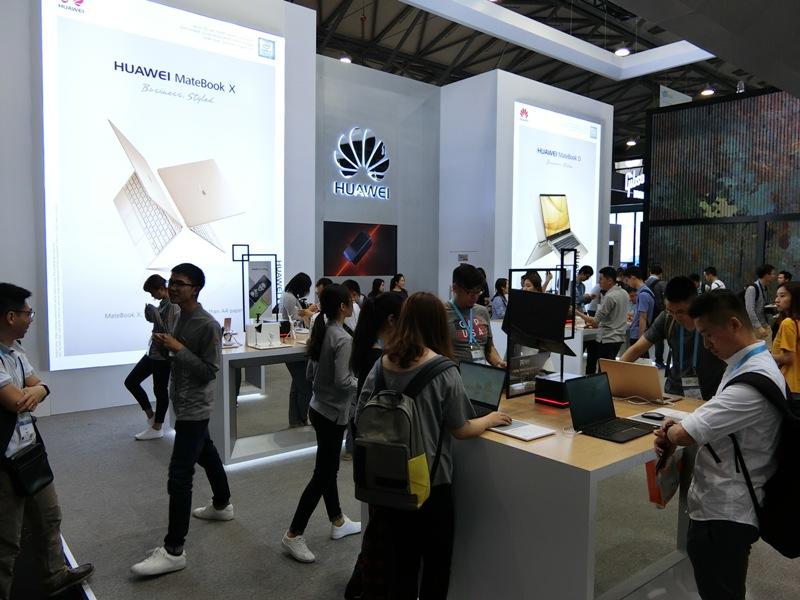 The Huawei booth
Many VR and AR technologies were on display. There were more svelte, elegantly designed head-mounted displays; some could be coordinated with your living room walls and sofa. The number of mixed reality devices on the model of Microsoft's HoloLens appeared to have increased. Pimax unveiled 4K and 8K VR headsets, and there were gaming sets combining large-scale interactive gaming equipment with VR and war-game costumes with VR, as well as AR glasses for commercial use on the factory floor. That drove home how these new technologies are expanding into both the business and consumer spheres. One thing that particularly intrigued me was a VR device from Vidoo that could be operated by hand gestures, which would seem to have potential applications in such fields as education, gaming, and business. Gesture recognition technology isn't just confined to VR; combined with voice recognition, it can also be used to operate vehicle control panels. The Chinese VR market will, according to GfK, double in size from $750 million in 2016 to $1.6 billion in 2017. Shopping mall video arcades all over Shanghai are already equipped with VR war games and rideable VR gaming equipment.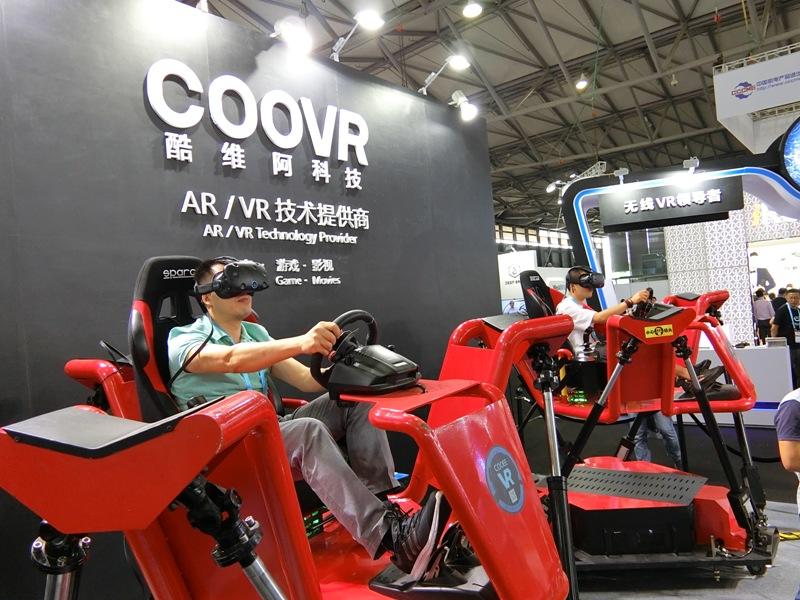 The interactive game COOVR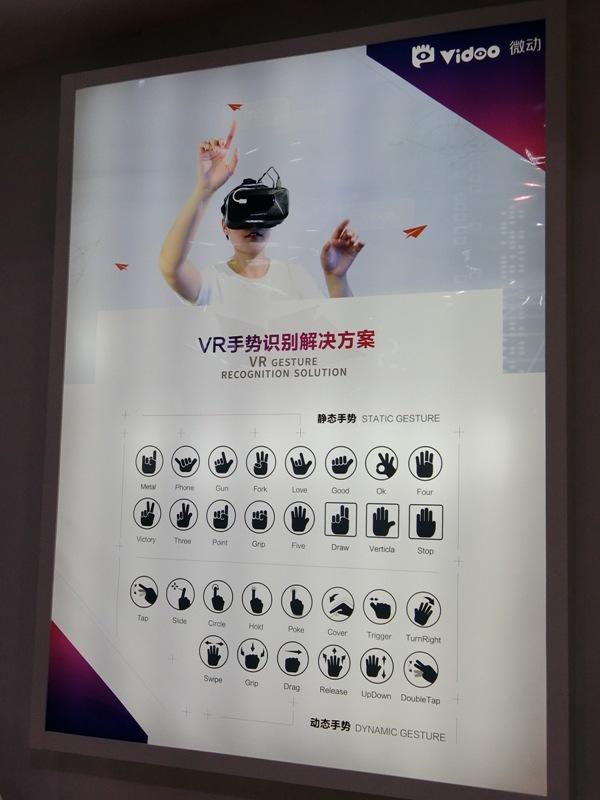 Vidoo
Tencent, which operates WeChat and QQ, is one of China's largest technology concerns. It's committed to enhancing Chinese society by providing a full range of communication and other services to consumers in all areas of life, including medicine, healthcare, and social services, on the theme of Internet Plus. In its seminar Tencent showcased what sets it apart: its vision of applying big data, the cloud, and AI to games, social media, content, WeChat, and messenger tools. Tencent's apps and services are each on a scale unthinkable in Japan, with hundreds of millions of users. (WeChat has 890 million monthly active users and QQ 870 million MAUs; Tencent offers many other apps besides.) Based on my own impressions, the Chinese content market is not to be sneezed at: online videos and TV dramas are fairly widely viewed and there are quite a few gamers.
What most surprised me at this year's CES Asia was the swiftness with which JD.com had rolled out services similar to those of its American counterparts. JD.com is China's second largest e-commerce company after Taobao and partners with the Tencent Group. Under the slogan "Smart JD, Smart Life," it announced in its keynote a smart home, the JD Alpha smart service platform, and hub functions synched with IoT devices to be offered on an open-platform basis. It also unveiled its voice-controlled Ding Dong speaker, as well as a smart refrigerator and a 3D AR/VR e-shopping mall. Further, it shared its ideas for revolutionizing logistics with drones and unmanned transport vehicles, of which actual examples were on display in its booth. I had to admire the speed with which it had developed and released new products and services like those unveiled at CES in the United States.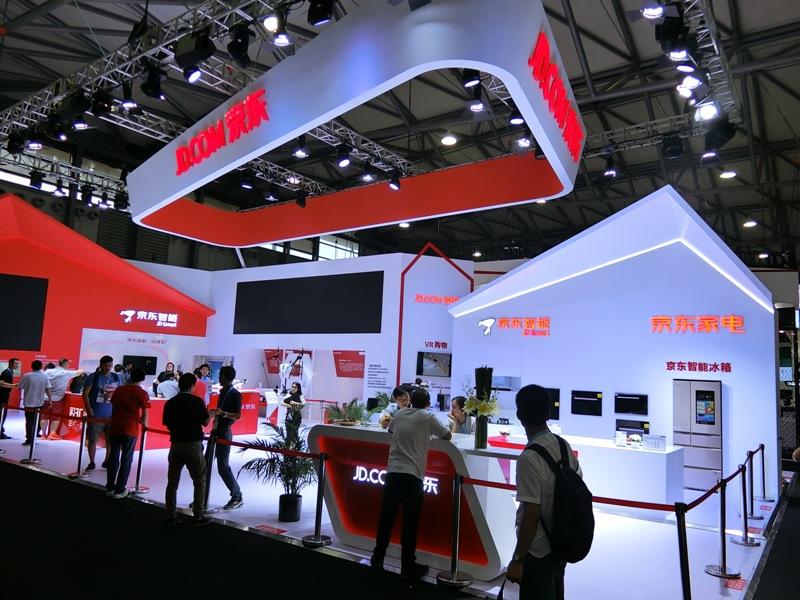 The JD.com booth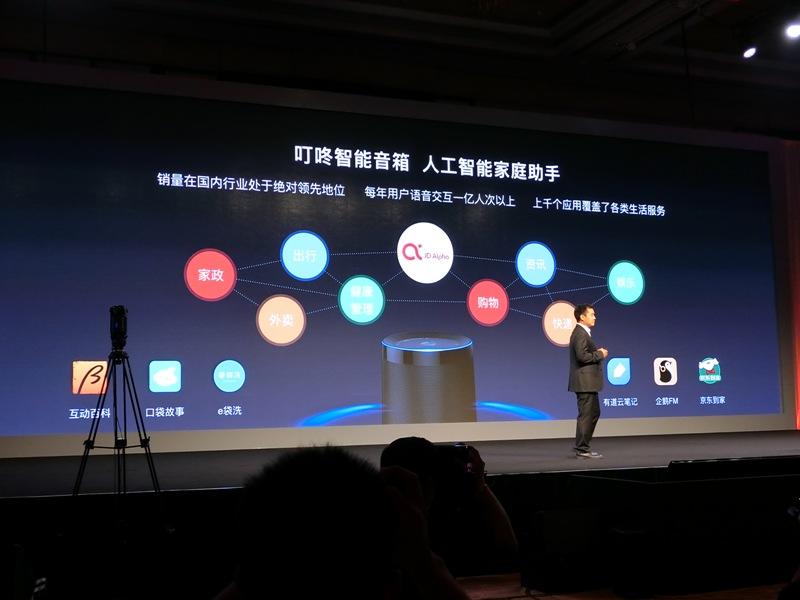 JD.com's keynote
Another company worthy of note is HaoMaiYi, which offers virtual fitting. Virtual fitting was originally only available online, but now HaoMaiYi has brought the service to actual shops. Large smart mirrors are installed in bricks-and-mortar fashion stores, and sales staff use these and their smartphone when serving you. You can try on different clothes and colors in the mirror to see what best matches your face and body shape. If you like something, you can order it right there online. A QR code is printed on the tag of each item on display in store, so you can also do the same with your own smartphone. HaoMaiYi has partnered with C&A and several other brands, and it also has a tie-up with WeChat with its an overwhelming presence in China, so anyone can use the service and pay for purchases with it. Only in China would an O2O2O business model be implemented with such rapidity by extending an online service to real stores offline.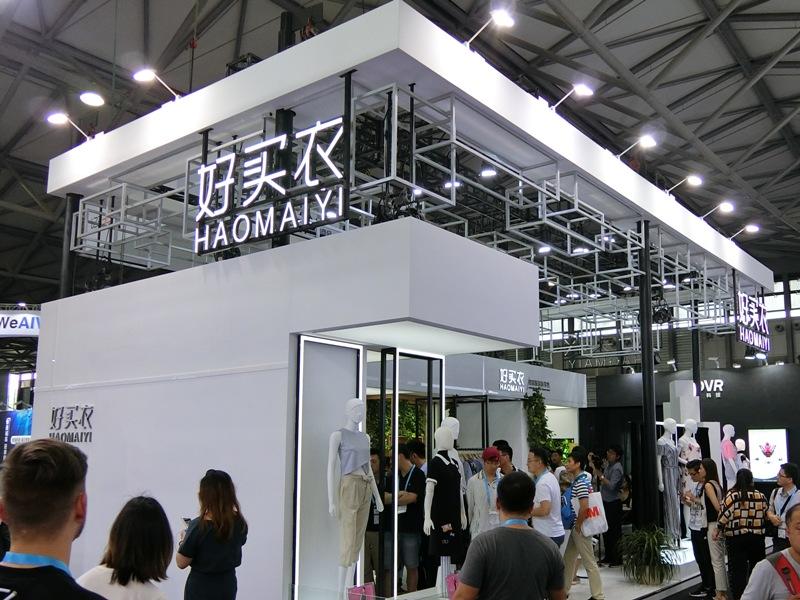 The HaoMaiYi booth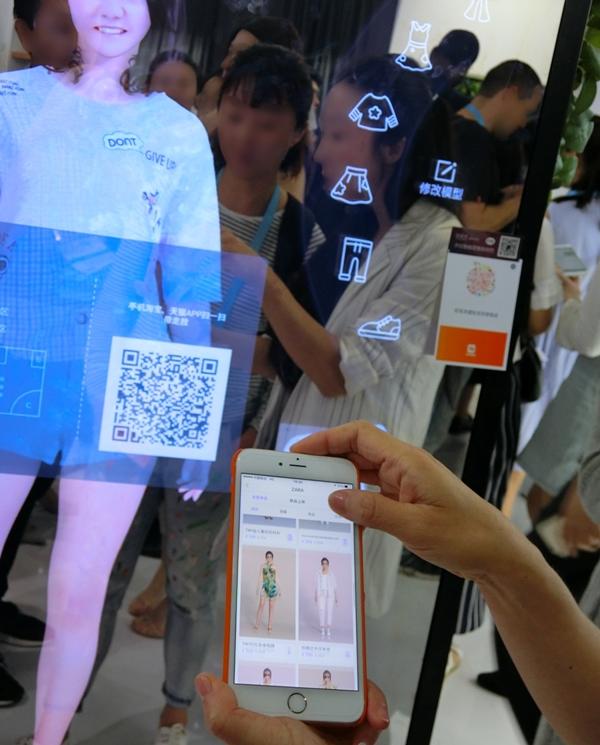 HaoMaiYi's smart mirror
Smart homes, I discovered, are an up-and-coming trend in China as well. Makers of consumer electronics like Haier, big-box electronics stores like Sunning, and telcos like China Mobile all offer platforms for them. A few things about these are uniquely Chinese: big-box electronics stores aggressively promote their own smart-home platforms while displaying the latest IoT appliances; and water and air purifiers and juicers are included among the fixtures, reflecting circumstances in China. Air and water pollution are serious concerns, and the Chinese are highly health-conscious. The show also featured an abundance of smart beauty devices, smart mirrors, and audio equipment. There is thus a high level of interest in both beauty and music in China, so there may be considerable market potential.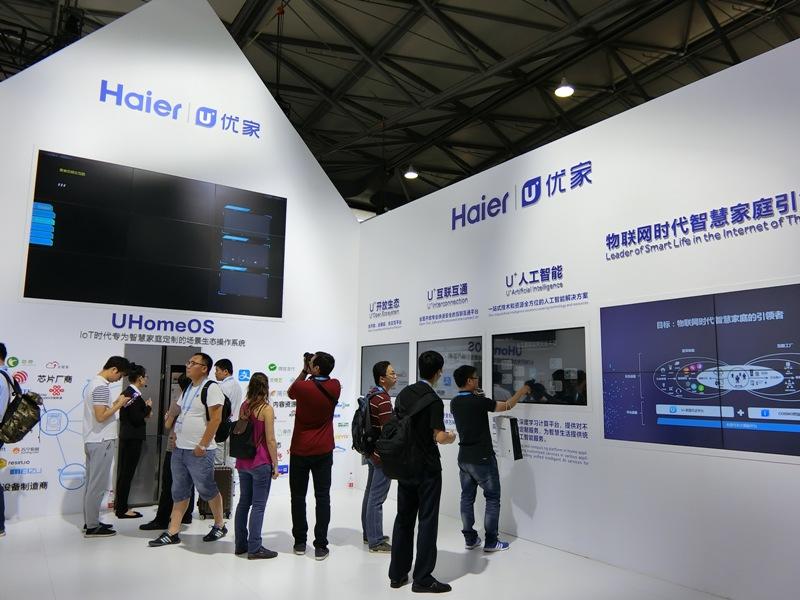 The Haier booth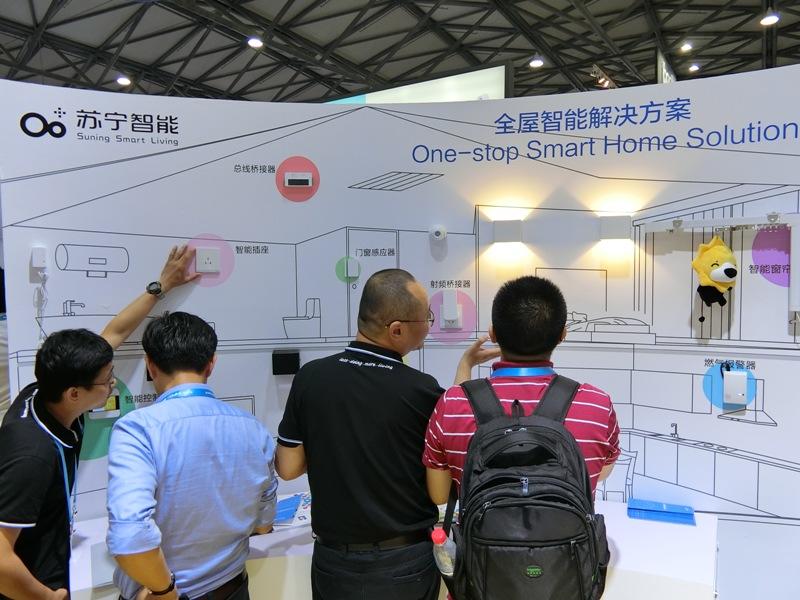 The Sunning booth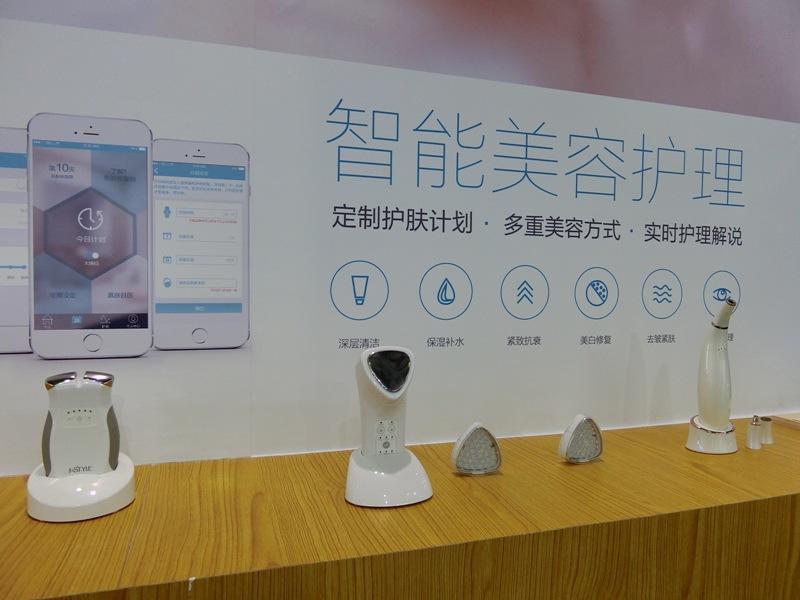 A maker of smart beauty devices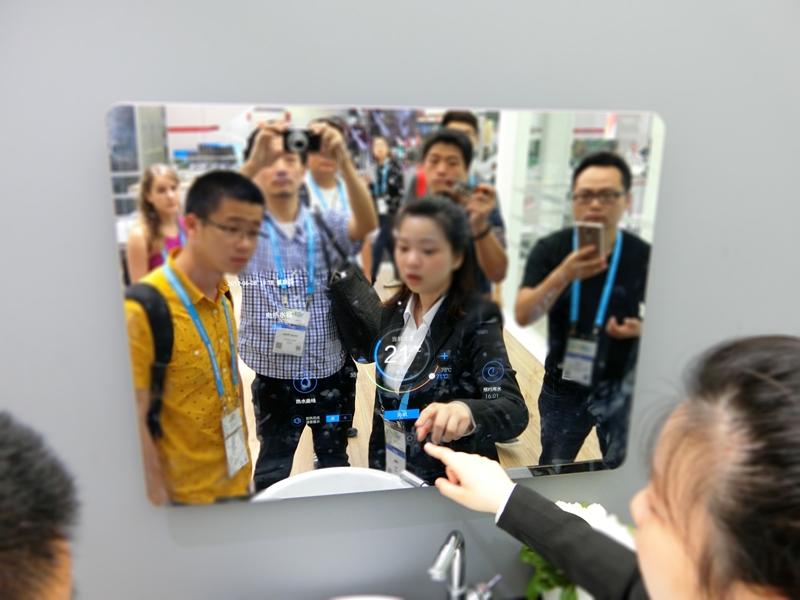 Haier's smart mirror
Baidu, China's largest search engine, possesses extensive map data and has teamed up with NVIDIA in self-driving technology. It offered test drives in an actual self-driving car on the CES site. Previously, at the Shanghai Motor Show in April, it announced an open platform for developing self-driving cars called Project Apollo, and it exhibited an impressive array of technologies, software and sensors at CES as well. It has formed a team called Road Hackers and is collecting Chinese road maps and actual street data; it is thus rapidly improving the accuracy of computer predictions through a combination of human-wave tactics and its own AI. It plans to unveil its open-source Project Apollo autonomous driving technology in Beijing in July 2017. It is currently signing up alliance partners in an evident bid to establish its own ecosystem in China. Domestic Chinese automakers are racing to develop electric vehicles, so perhaps the world's first completely self-driving car will be a Chinese-built electric car equipped with Baidu map data.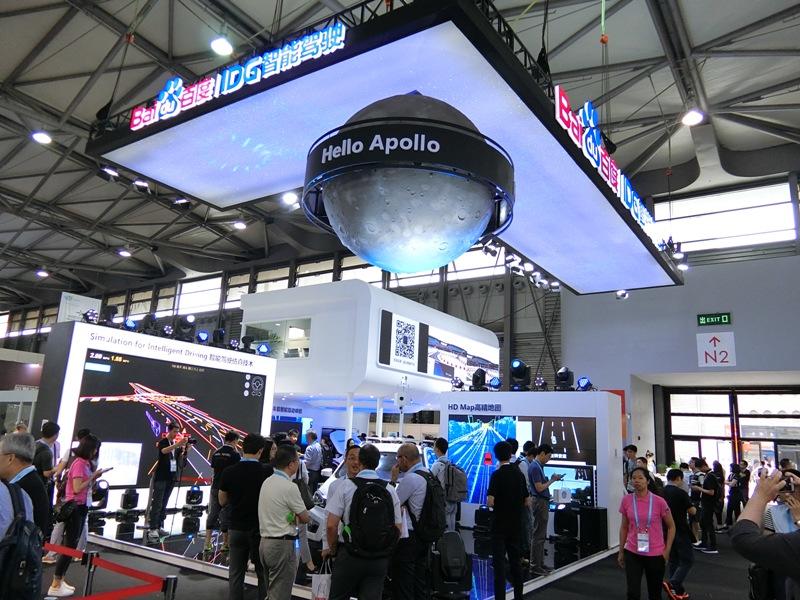 The Baidu booth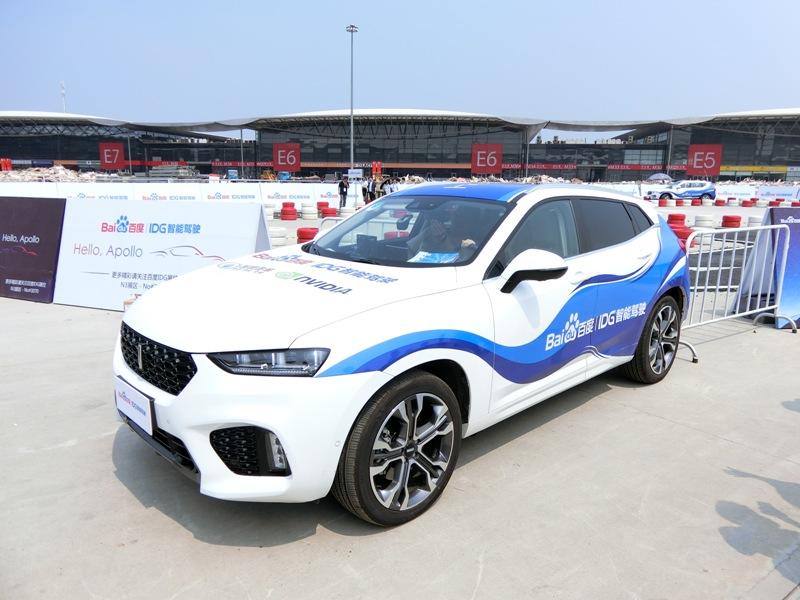 Baidu demo car
Another intriguing company is NEVS, which stands for National Electric Vehicle Sweden. The owner of Swedish carmaker Saab, it is owned in turn by a Chinese firm. With its sights set on the sustainable society of tomorrow, it announced plans to develop and supply an electric vehicle equipped with the next generation of connectivity technology. It has already taken orders from the city of Tianjin, China, for car-sharing purposes.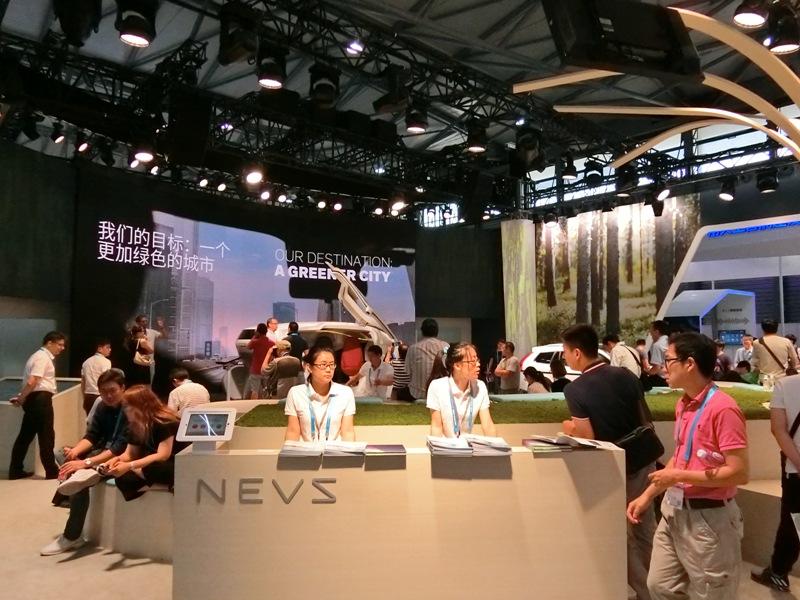 The NEVS booth
Whereas the American Consumer Electronics Show spotlighted self-driving technology as a new field of industry, in China it was rather connectivity and how it would transform the on-board experience for consumers that seemed to attract the most interest. This is speculation, but it may be that in China the focus will not be so much on self-driving cars per se as on developing self-driving technology as part of a broader social infrastructure centering on electric vehicles, since the Chinese government is promoting such vehicles (new energy vehicles) as a policy goal.
That completes my account of CES Asia. After having a look around I hit the streets of Shanghai to get something to eat, and everywhere there were shared bicycles like the Mobike, which has even made the news in Japan. These bicycles are unlocked with an app and cost one yuan to ride. People of all ages use them to commute and get around. (Just as I was writing this piece an article appeared on plans to enter the Japanese market.) Interactive VR games are a regular sight in shopping malls around town. Xiaomi shops with the kind of elegant design and excellent service you'd expect of Apple are ubiquitous in malls, and smart appliances are ordinarily available. (Xiaomi, known as the Chinese equivalent of Apple, now offers a broad selection of IoT products. It is I suppose a kind of technological cross between Apple and Muji.) Products made by Huawei are displayed and sold in big-box electronics stores; the quality of the user experience they deliver has improved more than you might imagine and even equals Apple. Thus I've been able to observe firsthand how new technologies and services not yet available in Japan have become an ordinary part of life here in China.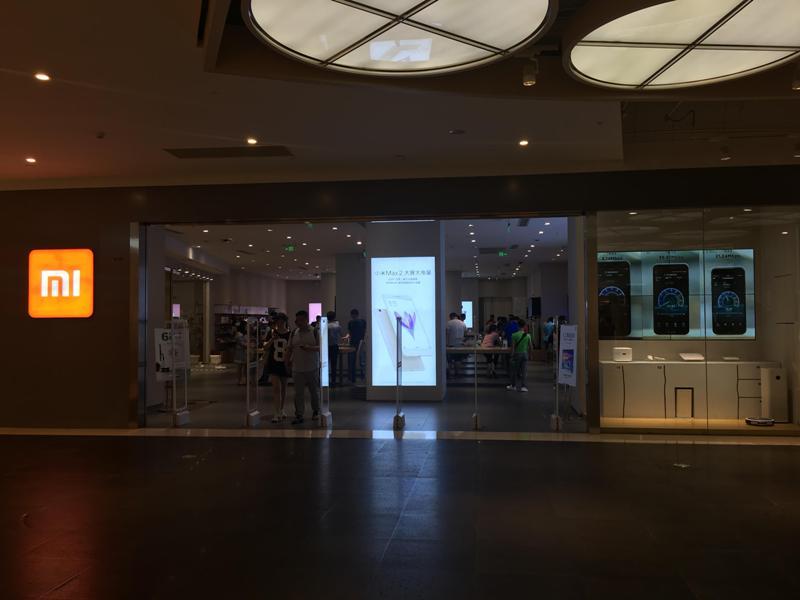 A Xiaomi shop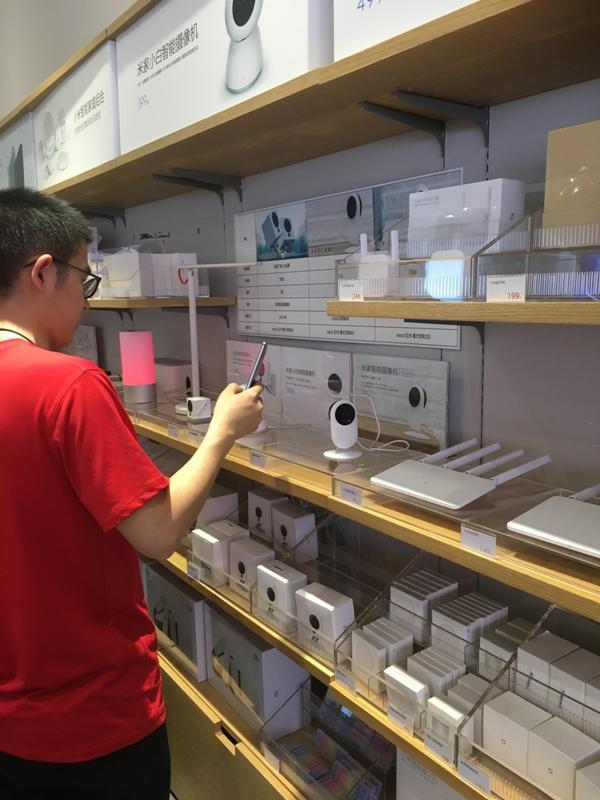 Inside a Xiaomi shop
Chinese companies, even startups, have their sights set on the global market, as many of them mentioned during the seminars at CES Asia. Their real motive appears to be to escape the excessive domestic competition in China. Almost without exception they spoke of plans to set up R&D centers in Europe or the United States with the intention of developing products and conducting business to global standards. Even within China companies are still vying to develop platforms for e-shopping and self-driving vehicles, and from a consumer standpoint there are many safety concerns and risks. Nonetheless, this visit made me acutely aware of the need for Japan to learn from the nimbleness and global perspective that the Chinese display in releasing a constant stream of new products and services. We shouldn't be complacent. Once China masters AI and deep learning, it will make even more rapid progress in perfecting technologies and services of every kind by mining data on its 1.4 billion Internet users. The vast Chinese corporate world may constitute an entity unto itself, but it has the potential to establish a global business presence in an instant.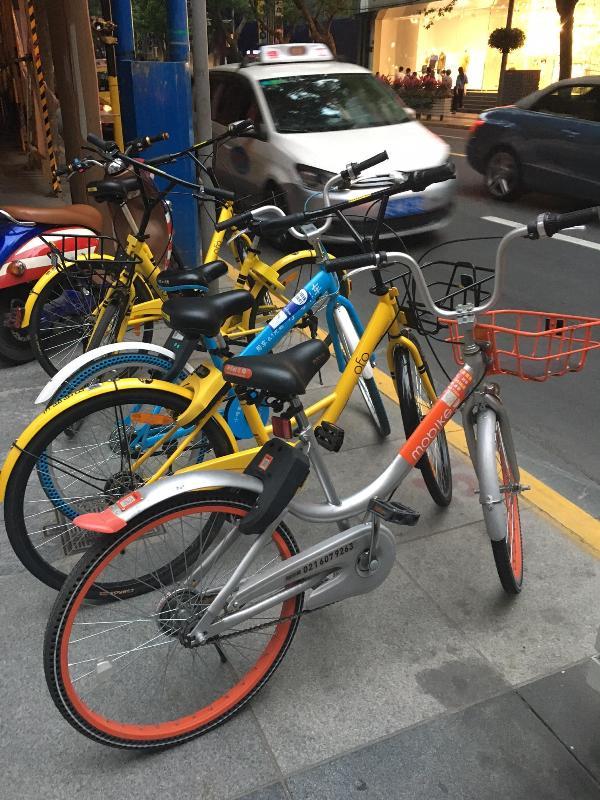 Bicycles on the street ready to share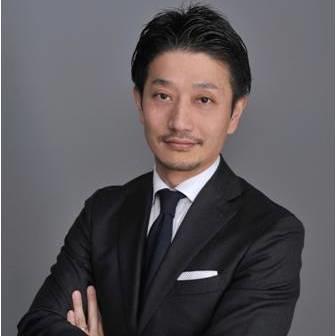 Tetsuya Waida
Group Manager
Global Data Marketing Group, Data-Driven Marketing Division
Tetsuya Waida's main responsibilities are strategic planning, management, business development, and global expansion in marketing fields applying digital technology and data. He provides support for upgrading corporate marketing capabilities–the shift to digital, data analysis, data management platform utilization, organizational development–focusing particularly on the automobile, IT, precision equipment, consumer electronics, e-commerce, and cosmetics industries. He also has expertise in doing business in Asia and China. He was on the 2016 APAC Effie Awards jury.